Todd James' cartoonish Expressionist works seduce the viewer with sun-drenched bodies at the pool, teenagers' bedrooms and badass guerillas with Kalashnikovs. Yet James' ability to lure viewers to connect with society's outlaws and outsiders creates a space to contemplate on the boundaries between right and wrong.
James, after gaining notoriety for painting in the New York subway system under the pseudonym REAS, spent time designing album covers and logos for musical legends including The Beastie Boys, Eminem and Iggy Pop. In a new twist on his previous work, his latest Adam and the Ants-inspired exhibition "King Of The Wild Frontier" focuses on Somali pirates looking dangerously cool in retro shades and neon garb, smoking cigarettes and touting gigantic guns.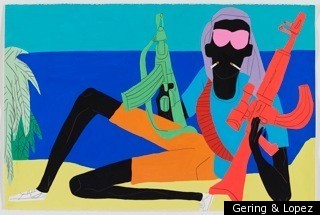 The exhibition also features "Vandal's Bedroom", an installation-object first shown at MOCA's "Art In The Streets." The piece is full of cluttered images of a teenage deviant's "bedroom-turned-graffiti-battle-station" that we can view beyond the glass partition.
Whether in the privacy of one's bedroom or out in international waters, James pays tribute to those who resist the invisible power structures that govern us. His colorscapes help us see that the world can't easily be defined in black and white terms.
"King Of The Wild Frontier" will show at Gering & Lopez Gallery in New York from March 1 until April 21.
Do these images make you want to take a walk on the wild side? What do you think?