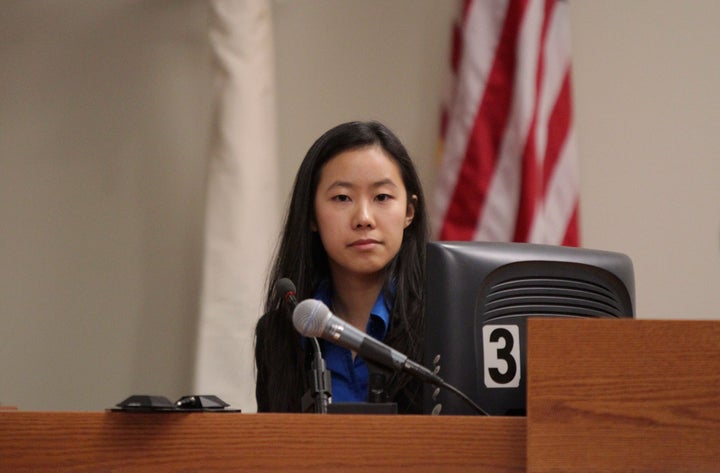 NEW BRUNSWICK, N.J., Feb 28 (Reuters) - A former Rutgers University student became "overwhelmed with emotions" when she learned another student was missing and perhaps dead just days after she had covertly watched him kissing a man over a webcam video, she testified in court on Tuesday.
Molly Wei testified at the Middlesex County, New Jersey, trial of another former student, Dharun Ravi, charged in the case of a gay Rutgers student who killed himself. Wei was originally charged with invasion of privacy in the case but entered into a plea agreement that required her to testify against Ravi.
Ravi faces 15 counts of invasion of privacy, witness and evidence tampering and bias intimidation, a hate crime, after setting up a webcam on Sept. 19, 2010, that displayed the intimate encounter of his roommate Tyler Clementi with another man.
Clementi, 18, jumped off the George Washington Bridge three days later.
Ravi, who turned 20 on Tuesday, is not charged with causing his death, but the case has raised questions about bullying, teen suicide and privacy in the digital age. If convicted, Ravi faces the possibility of 10 years in prison.
Wei was among those who saw Clementi kissing another man on Ravi's webcam for a few seconds.
When police told her a couple days later that Clementi was missing and may have committed suicide, she said, "I felt sad, overwhelmed."
"I felt overwhelmed with emotions," she said.
Prosecutors say Ravi intentionally spied on Clementi from another dorm room and intimidated him for being gay. The defense says Ravi behaved childishly but did not have a problem with his roommate's homosexuality and did not commit any crime.
Wei testified on Monday that Ravi had briefly mentioned that his roommate was gay but did not consider it an issue.
Under her plea agreement, Wei also must serve 300 hours of community service and undergo counseling.
Experts say it may be difficult to prove the incident was a hate crime. For such a conviction, prosecutors must prove Ravi attempted to intimidate Clementi for being gay.
Both were freshmen at the time. (Editing By Ellen Wulfhorst and Will Dunham)