When I was younger there was nothing cooler than sporting Keds with lace-trimmed bobby socks. I wore those for a few years, then graduated to high-top Reeboks in blindingly-bright colors. My taste in footwear is still on the edgier side -- think shoe booties with everything in winter, and neon-hued Grecian sandals in the summer -- but I've managed to return to my sock-wearing roots at the ripe old age of 33.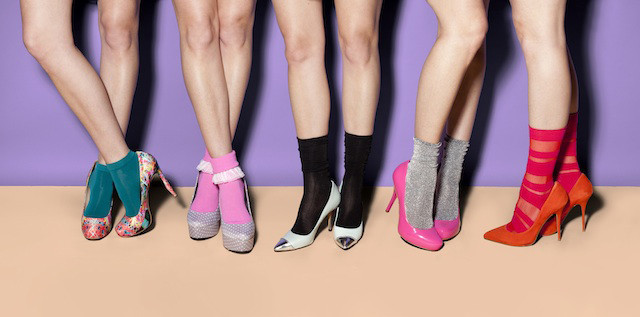 Photo: Bobby Doherty/AOL
Inspired by the fall 2012 collection from Dolce & Gabbana, I recently pulled out an old pair of pointy-toed pumps and paired them with thin lilac socks. Slightly nerdy in that sexy secretary way, the look just felt right. The key to wearing socks with heels is choosing super thin socks (no athletic socks allowed), and mixing and matching unexpected colors. I prefer closed-toe pumps, but I have caught The Man Repeller in animal-print Miu Miu strappy platforms sandals with argyle socks, which I vowed to try immediately.
What a perfect way to usher in spring: no need for totally bare legs just yet, just wear socks. Tell us in the comments section below, will you try this trend?
Meanwhile, don't miss this roundup of the best shoes for spring.
FASHION RELATED LINKS YOU MAY LOVE:

Joan Smalls Covers Vogue Italia's March Issue - The Cut

Tom Ford Takes London - The Daily Beast

How To Buy A Diamond On A Budget - Lucky

Editor's Picks For Under $100 - InStyle

Handbag Porn: Classic Black Edition - The Gloss
BEFORE YOU GO