Collaborating with a major brand can be a fashion designer's high point. Having a model fall on your runway can be any designer's low point.
Anthony Vaccarello achieved both today, when he showcased his Fall 2012 collection on the backs of Karlie Kloss, Anja Rubik and Joan Smalls, among others, to kick off Paris Fashion Week.
Vaccarello, whose profile rose significantly last Fashion Week when Kloss wore his sexy cutout dress, had a new project to show off this season: a shoe collaboration with Giuseppe Zanotti. The footwear was stunning, strappy pumps with pointy toes that accented the angular menswear well.
But they proved rather difficult to walk in, as model Pauline Hoarau took so many stumbles during the finale that she had to be helped off the runway by two fellow models. The International Herald Tribune's Jessica Michault tweeted:
Poor Zanotti. In his 1st collaboration with Vaccarello a model needed help to walk the finale. Flashbacks to Kanye West's show last season.
When a follower tweeted at her, asking why the model needed help, she responded, "Couldn't walk in the heels!!!!"
For what it's worth, the shoes (and the clothes!) were gorgeous. And three cheers for models being nice to each other -- who knew that ever happened?
PHOTOS: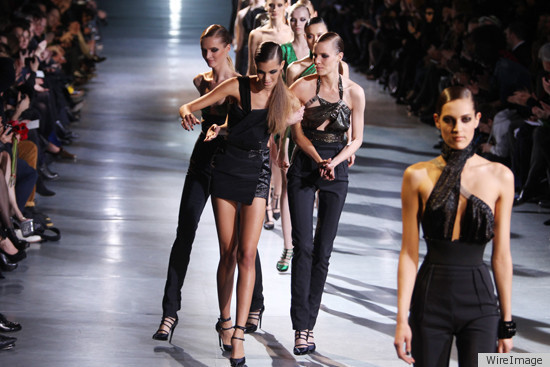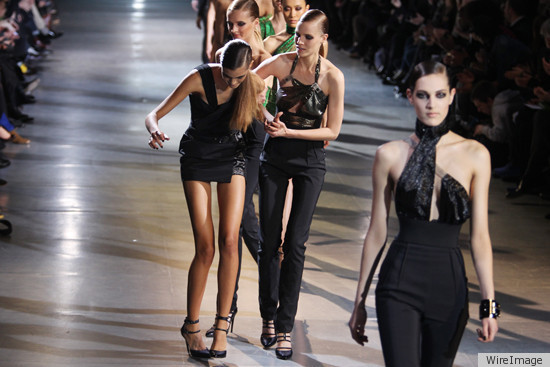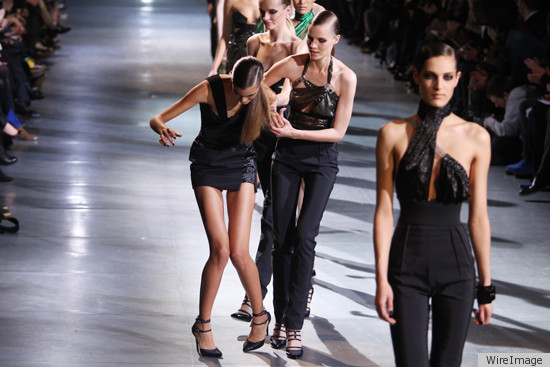 BEFORE YOU GO
See more models falling:
PHOTO GALLERY
Models Falling On The Runway