Occupy Denver has announced that on Wednesday, Feb. 29, they will be holding a rally and guided tour/march against ALEC, the American Legislative Exchange Council. The rally is being held in solidarity and in conjunction with a national day of action against ALEC that more than 90 other cities are also participating in, according to the Shut Down the Corporations website.
ALEC describes its mission on its website:
To advance the Jeffersonian principles of free markets, limited government, federalism, and individual liberty, through a nonpartisan public-private partnership of America's state legislators, members of the private sector, the federal government, and general public.
But those critical of ALEC describe it as HuffPost blogger Miles Mogulescu does, "One of the most influential organizations which connects state legislators with corporate money and corporate think tanks to influence pro-corporate, anti-union state legislation. Funded by some of the largest corporations based in the United States, ALEC takes the policy ideas of corporate-friendly think tanks, turns them into hundreds of 'model legislation' bills undermining unions, blocking environmental protections, opposing health care reform, and supporting the tobacco and private prison industries." For a list of all ALEC corporations, click here.
On the Shut Down the Corporations website, the protesters made this statement:
We demand that ALEC, as an undemocratic organization, disband immediately. We demand corporations remove themselves from those decisions that affect our lives. We demand the direct democracy necessary to be able to decide the shape of our society so that we can work together to address those challenges confronting us. The future of our species and the planet requires this. We will decide our own fate. Together we are unstoppable. Community power not corporate power! Occupy ALEC!
Occupy Denver will be rallying on Feb. 29 at 3 p.m. in Civic Center Park. From the park they will depart on a march and guided tour of all the ALEC corporations in downtown Denver.
Visit Shut Down The Corporations' Facebook page for more information.
LOOK: Anti-ALEC protest flyer: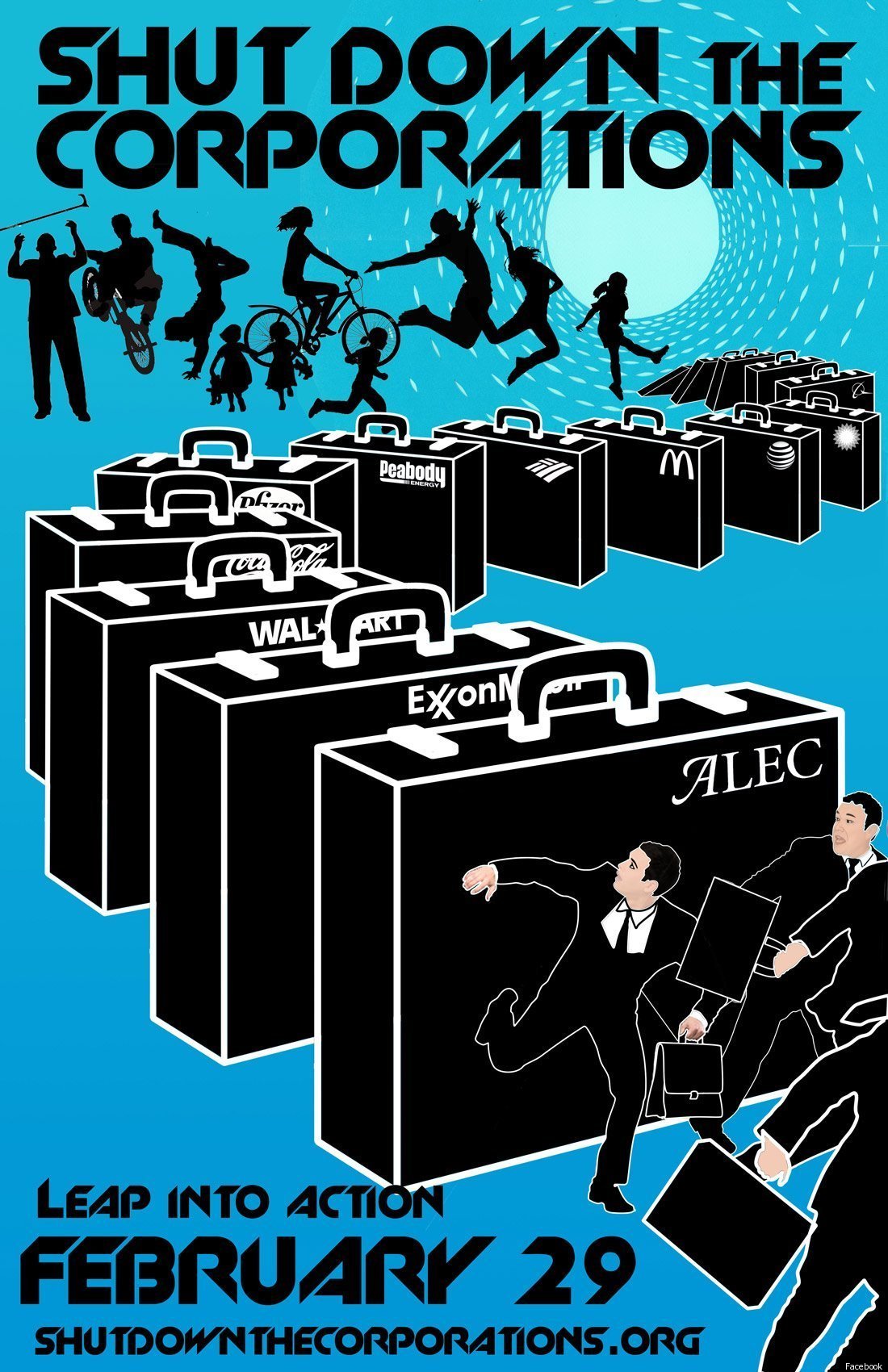 BEFORE YOU GO
PHOTO GALLERY
Signs Of Occupy Denver