Chick-fil-A, Starbucks and Subway earned the top customer experience ratings, in a new survey of 10,000 U.S. consumers by the Temkin Group. These chains beat out 14 other major fast food establishments and are the only fast food restaurants to receive an "excellent" customer experience rating. While 11 of the 17 chains received "good" ratings, Hardee's, Domino's and Jack In The Box were deemed only "okay."
The survey wasn't just limited to fast food though -- the Temkin Group covered 18 industries, and the three leading fast food chains are tied for the third spot out of all 206 companies. The fast food industry overall was ranked second, just behind grocery chains, in customer experiences overall.
We're not surprised that Chick-fil-A ranked highest -- after all, it's apparently so good that one football recruit made his college decision based on Chick-fil-A proximity.
Check out more survey results here.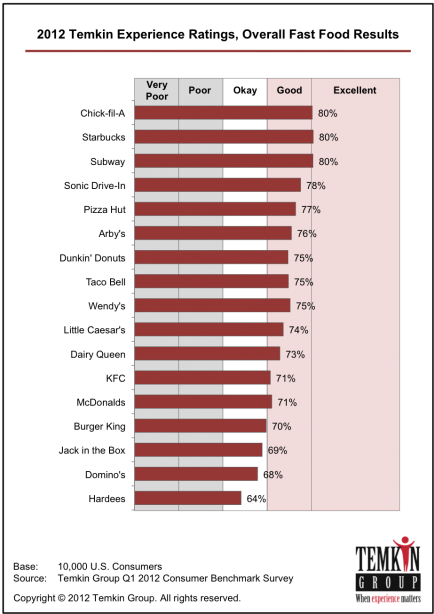 BEFORE YOU GO