Delia Brown's figurative paintings portray scenes of "Guerilla Lounging." Brown and her posse take over the private spaces of the upper class with a pseudo-activist zeal. Brown gains access to elite spaces like mansions and swanky hotels, hosting a group of her friends for lounge sessions where they live the good life for a limited time.
Brown captures the ways in which people physically interact with sites of ownership and relaxation. She also examines the psychological roots of desire and its relationship to femininity. Since she burst onto the art scene after graduating from UCLA in 2000, critics have struggled with Brown's works, deeming her performances as not-so-spectacular. Playing house in a mansion is a little too close to home, perhaps? Yet the general acceptance of gross consumerism that enables this very critique plays perfectly into Brown's message.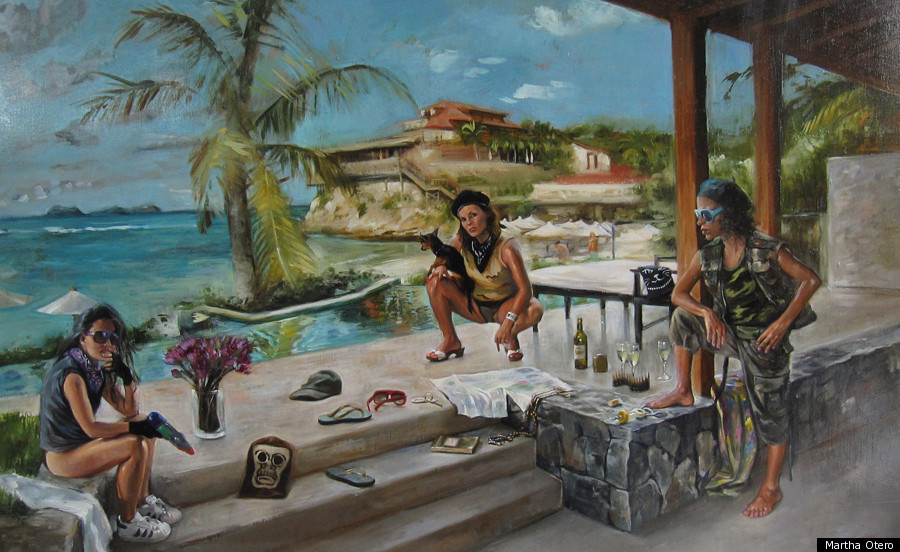 The newest exhibition of the Guerilla Lounging collection is "Last Exit: Punta Junta" in which Brown and her girlfriends chill in private villas in the Caribbean. (As far as enjoyable performance pieces go this project ranks pretty high.) The militant dandies don camouflage as they pop champagne as if saying consumption is the cause of our time. The paintings mix Gauguin's colonialist taste for the exotic with M.I.A.'s wandering aggression.
Brown, who moonlights as a rap artist, created a music video to accompany the exhibition. The video features Brown and Evelyn Charlot rapping lines like: "A guerrilla vacay – a coup d'etat // Uh-oh, this sounds like a brouhaha // What's up with the uprising, D? You think you're Libyan? // Not a revolution - a trip to the Caribbean!" The girls hold up Damien Hirst's diamond skull, expanding their satire of vacuous wealth to encompass the current art world giants.
Brown once said her work was ''stripping Allegory of its moral determinacy and therefore reducing it to a formal pastiche.'' Though Brown shows obvious discomfort toward the commodity crazed world she does partake in it, and she looks like she is having a lot of fun. Her works are not hostile rants but playful romps; though her unstable stance is what drives many crazy in regards to her work, it is also what makes her pieces quite brave.
"Last Exit: Punta Junta" will show until April 14 at Martha Otero Gallery in Los Angeles.
Check out a preview of the works below. Hypocritical or hard-hitting... what do you think?
PHOTO GALLERY
delia brown