She may already be an Oscar-nominated actress, but Jennifer Lawrence can still go to the grocery store in peace. Well, that's all about to change.
The 21-year-old Kentucky-born actress is Glamour's April cover girl and she tells the magazine she's excited, prepared and still a little bit in denial about how much her life is going to change when the first installment of "The Hunger Games" hits theaters March 23.
"I feel like I'm in the eye of the hurricane right now," she admits. "I just recently started cleaning and I'm insane, and I'm starting to think it's my anxiety over the movie. I think it's a bit like, 'I'm just cleaning the refrigerator handle. The movie's not coming out. I'm going to clean it spotless, and then my life will not change.' It's scary. I feel like a got a ticket to go to another planet and I'm moving there and there's no turning back ... It's daunting."
Lawrence knew that taking on the role of Katniss -- the heroine of the trilogy -- would be life-changing from the get-go.
"I knew from reading the the books that I loved 'The Hunger Games.' I just didn't know if it was worth changing my life for," she said. "I'm at a peaceful place right now. The people who used to ignore me at parties, now they're nice to me and kissing my ass. But nobody's staked outside of my house."
When the film hits theaters in a few weeks Lawrence is poised to become not just a star, but a tabloid target. Despite the inevitable loss of privacy that's about to hit, she seems to have adopted the right attitude about it.
"In some ways, [living in the public eye] is a hard life, but it's a great professional life," she told Glamour. "I'm doing what I love, and then I get months and months rest. I have a lot of money for a 21-year-old. I can't stand it when actors complain."
With Lawrence and the rest of the cast of "The Hunger Games" about to embark on a eight-city mall tour, a Katniss Everdeen Barbie doll in the works and two more installments of the trilogy to film to come, it sounds as if the next big star might just be too busy to complain.
For more, check out Glamour's interview with Lawrence in the April issue, on sale at newsstands March 6.
PHOTO: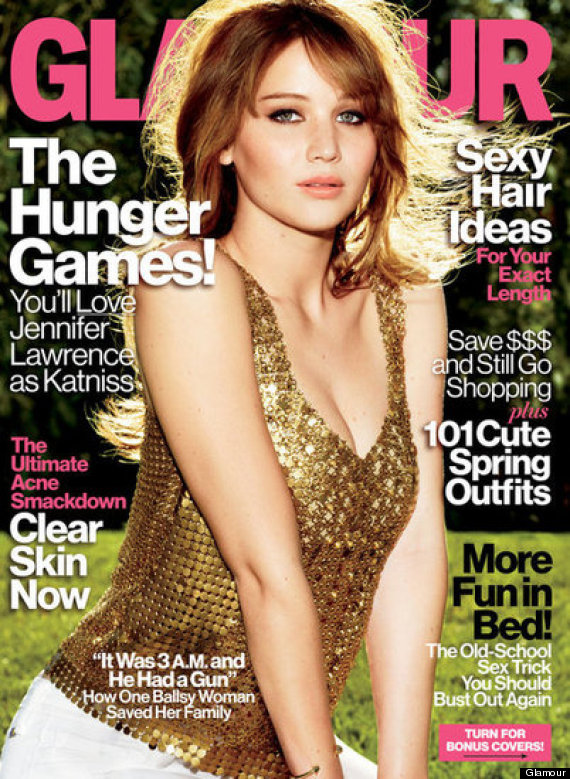 PHOTO GALLERY
'The Hunger Games' Photos: Jennifer Lawrence, Josh Hutcherson, Liam Hemsworth
BEFORE YOU GO