WASHINGTON -- In Mitt Romney's narrow victory in Michigan's Republican primary on Tuesday, he received a slightly greater share of the vote (41 percent) than he won four years earlier (39 percent), but that slight increase obscures a larger, ongoing story. Since 2008, Romney has consistently gained with moderate Republicans, but has typically lost support from the most conservative voters in the Republican base.
Four years ago, former Massachusetts Gov. Romney positioned himself as the conservative alternative to Sen. John McCain (R-Ariz.). As such, according to the National Election Pool network exit poll in Michigan, Romney defeated McCain by a wide margin (48 to 11 percent) among Michigan Republicans who described themselves as very conservative. McCain prevailed narrowly (38 to 34 percent) among Republicans in the state that identified as moderate or liberal.
On Tuesday, the support for Romney realigned. According to the 2012 NEP exit poll in Michigan, Romney lost very conservative primary voters to former Sen. Rick Santorum (R-Pa.) by 14 percentage points (36 to 50 percent), but carried both moderate and liberal voters (39 to 33 percent) and those who identified as somewhat conservative (30 to 32 percent).
That shift has not been unique to Michigan. As the table below shows, the "very conservative" subgroup has been Romney's worst this year in all of the early contests for which exit polling is available. In 2008, however, the reverse was true. Romney did better among conservatives, while receiving his lowest share of the vote from moderate and liberal voters in the early Republican primary and caucus states.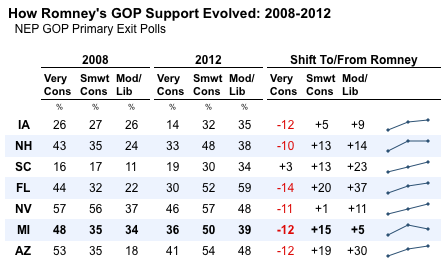 A calculation of the shift in Romney's support in each category in each state (as in the last three columns of the above table), shows a highly consistent pattern. The shifts in Romney's favor were always greatest among moderate or "somewhat" conservative voters. Romney experienced a net decline in his support among very conservatives in 6 of 7 states. The exception, South Carolina, was Romney's weakest early state in 2008, particularly among strong conservatives, so he had no where to go but up in 2012. Nevertheless, Romney gained far more from among South Carolina's more moderate voters.
Michigan's results actually add a small wrinkle to the the otherwise consistent pattern of ideological shift in Romney's support. It is the first state so far where Romney gained more since 2008 among "somewhat conservative" primary voters (+15) than among moderates and liberals (+5). The explanation appears to be the late push by the Santorum campaign to convince Democrats to vote in the Republican primary. Democratic identifiers accounted for 9 percent of the Michigan electorate, and they supported Santorum over Romney by an overwhelming margin (53 to 18 percent). Santorum's support from Democrats helped cut Romney's vote in that group by 15 percentage points compared to 2008.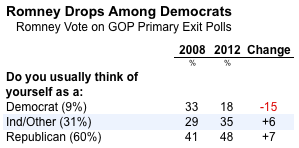 Despite the slightly greater turnout of Democratic identifiers that supported Santorum, Romney experienced his biggest gains among social moderates. He gained 13 percentage points among those who support legal abortion, 12 points among those who said that it matters not much or not at all that a candidate shares their religious beliefs, and 8 points among voters who do not describe themselves as born again or evangelical Christians.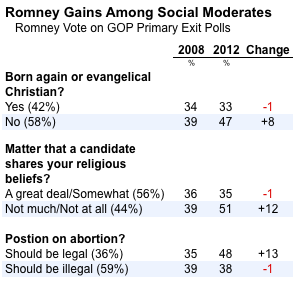 The offsetting ideological support may explain similar shifts by age. Romney gained most since 2008 among older voters, including an 8 percentage point gain among those over age 65, yet lost 4 to 5 points among voters under 40.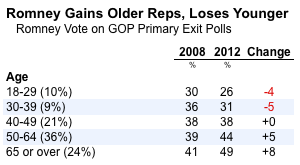 Romney's gains among moderates and losses among more conservative voters also creates a more subtle geographic shift. According to the exit poll tabulations, Romney gained the most support since 2008 in Wayne County, home of Detroit (+11), and in precincts in the biggest cities generally (+16). He lost support in more rural areas (-7).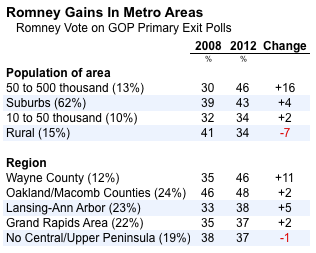 Since the shifts in Michigan have been largely consistent with those observed elsewhere, they do little to change the ongoing story of the Republican nomination battle. Romney will likely continue to struggle among the most conservative Republicans, particularly among social conservatives. The key to Romney winning the GOP nomination, however, will likely be voters in the middle of the Republican ideological spectrum.