Amber Rose is engaged! Well, probably: the voluptuous model (and Kanye's notorious ex-girlfriend) tweeted a photo of what looks like a giant diamond ring on her wedding finger.
"He has made me the Happiest Woman in the World!!!!" Rose, 28, wrote on Thursday, in reference to boyfriend Wiz Khalifa. The couple have been dating for little over one year, having celebrated their first anniversary on January 7 of this year.
For his part, the Grammy-nominated rapper Khalifa, 24, also tweeted: "She Said Yes!!!"
The engagement shouldn't come as a surprise to anybody, not least of all Rose, who was surprised once already a few weeks back at the Grammys.
"We not engaged, not yet," she told E! News.
"Not yet, but soon enough," Khalifa chimed in, to a startled-looking Rose.
He has made me the Happiest Woman in the World!!!! instagr.am/p/Ho_x7HwvEI/

— Amber Rose (@DaRealAmberRose) March 1, 2012
She Said Yes!!! instagr.am/p/Ho_QR4ndvr/

— Wiz Khalifa (@RealWizKhalifa) March 1, 2012
PHOTO: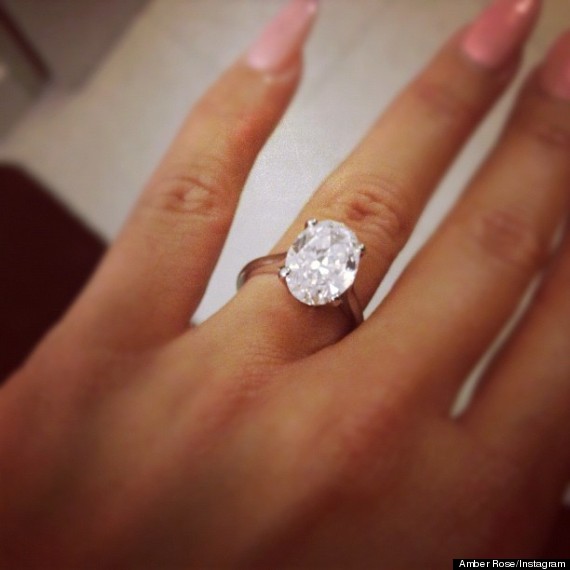 BEFORE YOU GO