Dine in colorful style with this Craft Of The Day. Tipped flatware (where the handles bear bright colors) seems to be the lastest trend these days, but instead of spending hard-earned money on something so easily done, make your own! Keep reading for the how-to.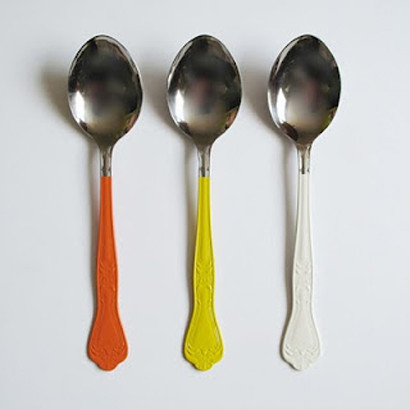 Photo by Christy Cook of Creatively Christy
What You'll Need
Spoons
Metal primer spray-paint
Spray-paint
Painter's tape
Sandwich bag
How To Make It
1. Wrap a straight piece of tape around the handle just below the spoon head.
2. Secure the spoon head in a plastic bag to protect it from the paint.
3. Holding head, spray-paint handle with primer.
4. Repeat the last step.
5. Spray-point with the color of your choosing.
6. Let dry.
For a full tutorial, visit Creatively Christy. And, be sure to check out the other great crafts in our Craft Of The Day slideshow below.
PHOTO GALLERY
Craft Of The Day