By Karissa Rosenfield
(click here for original article)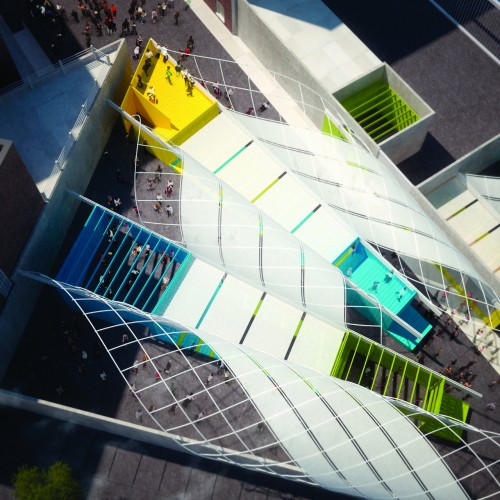 Aerial - Courtesy of Cameron Wu
ArchDaily announced the winning proposal for the 2012 MoMA PS1 Young Architects Program (YAP) in February. In order to bring you full coverage of the annual competition, we are featuring the other four creative designs that competed against HWKN's Wendy. Cameron Wu (Cambridge, MA) proposed Coney Inland, an architectural strategy which formally unifies and spatially modulates the challenging MoMA PS1 courtyard site. A series of developable surfaces (cones and cylinders) and their base structures normalize the contingencies of scale and shape of the three courtyard spaces, while their legible transformations register the idiosyncratic nature of the overall site geometry.
For generations of New Yorkers, Coney Island has served as the quintessential local retreat from the city. Unfettered access to sky, land, and sea makes it a clear contrast to the urban metropolis, drawing crowds in search of spatial and social release. Through the architectural translation of qualities inherent to this ocean-side precedent, Coney Inland imports the culture of casual beach leisure into the courtyard at MoMA PS1.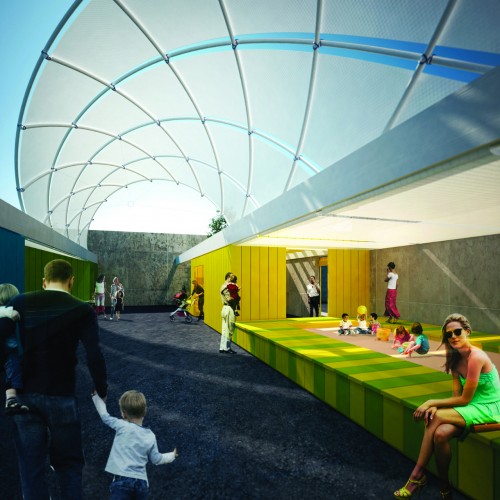 Side Court - Courtesy of Cameron Wu
Colorful cabana/boardwalk hybrids provide longitudinal subdivision of the courtyard space. These boardwalks are deployed as differentiated programmed spaces modulating the circulation patterns. Latticework parasols overhead provide extensive spatial coverage in addition to considerable and necessary shade. The dynamic subdivision of the conical and cylindrical forms recreate the sensation of suspension between sky, land, and sea. Recalling observation towers and their privileged vantages, elevated sundecks allow one to rise above the canopies to survey the courtyard and all of its colorful activity. Shallow pools, sand pits, and play courts provide leisurely activities reminiscent of various seaside past-times and boardwalk life. During the weekend MoMA PS1 Warm Up, seas of people will flow unimpeded through the courtyard to the dance floor.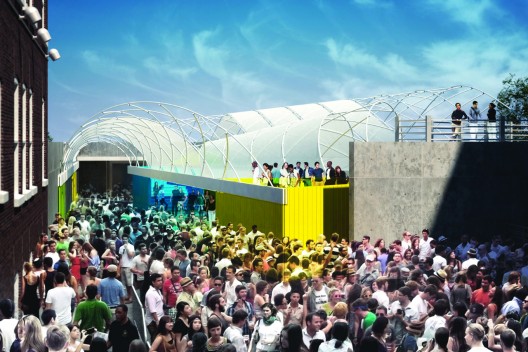 MoMA PS1 Warm Up - Courtesy of Cameron Wu
The canopy structures, developed in collaboration with the New York office of Schlaich Bergermann engineers, use geodesic lines of cone and cylinder surfaces to minimize twisting of the structural elements (2-3/8″ pultruded fiberglass poles). The resulting panel geometries are engineered to be identical when unrolled, shown by equally spaced parallel lines. This allows the entire bay to be clad with a strip of material which is uniform in width, thus minimizing waste. Due to the nature the developable surfaces, the trajectories of structural elements at the laminated LVL edge beams (which lie in plumb planes) are all identical and details can be standardized.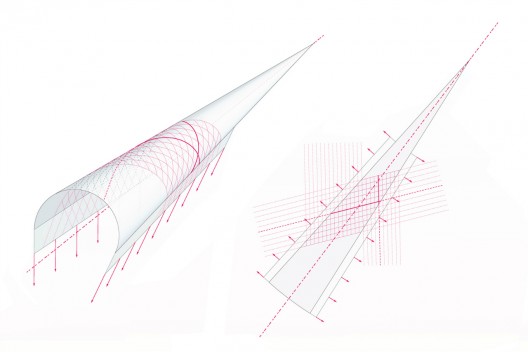 Geodesics - Courtesy of Cameron Wu
1:2 MoCKUP / Cameron Wu from ArchDaily on Vimeo.
Text and video provided by Cameron Wu.

Project Team: Cameron Wu, W. Gavin Robb, Rachel Dao, Carl D'Apolito-Dworkin, Taylor Dover, Kevin Hinz, See Jia Ho, James Leng, Mark Lewis, Jennifer Ly, Jim Peraino, Joanie Tom
Alex Watchman, Max Wong
Structural: Schlaich Bergermann und Partner (NYC), Christian Rieser, Robert Hellyer
Video: Greg Tran
Graphics: Ashley Takacs
Interactive: metaLAB (at) Harvard, Joseph Bergen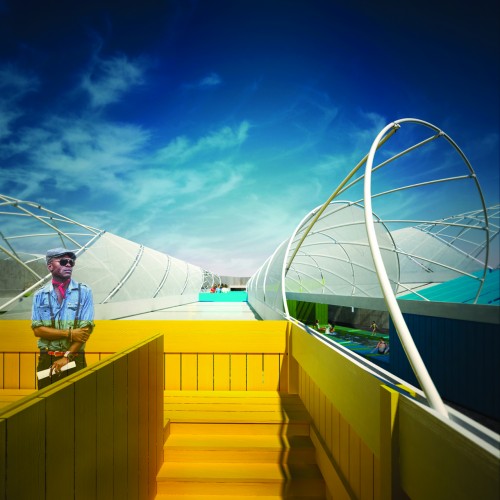 Platform - Courtesy of Cameron Wu