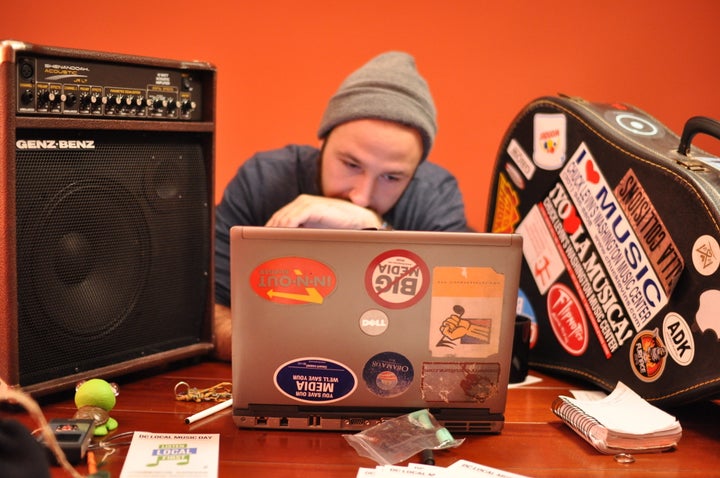 Together, Naoum and Moffatt run Listen Local First D.C., an initiative to persuade D.C. businesses to play the music of Washington area artists for at least one day a month. Now, thanks to a fundraising campaign through the Kickstarter website, they've raised more than $5,000 for a "mobile music venue."
Through the fundraiser, which ended Monday, the pair has purchased a van that will serve as their mobile music venue. The van, according to Naoum's Kickstarter appeal, is a bit like "a food-truck that serves music."
But before they serve music to the nation's capital, they're taking a 1,500-mile detour to Austin for the South by Southwest festival. Listen Local First D.C. has been offering programming featuring local musicians to area businesses since October. Taking D.C. music to this year's SXSW might help expand the artists' fan base.
"First of all, I was planning on going there anyway," Naoum said. "And I've done work with ... bands so I was thinking how do we get Listen Local First involved."
Naoum noted that his primary objective is "making D.C. people aware of the music that is being made here." But he expressed an additional interest in creating a larger environment for success. "That local music scene is your stepping stone to the next level," he said.
Before the trip, the van will be inspected "just for safety reasons," Naoum said. Then, local D.C. artists will paint it, the crew will equip its sound system, and the video team that's documenting the journey will get ready.
The goal is to turn their time at SXSW into an original web series to further promote D.C. music. Since the van will be decorated, Listen Local First D.C. will film some musical showcases directly in front of the vehicle. Local artists who are also attending SXSW will stop by to chat or play a few songs. Though scheduling will be tough, Naoum said that SXSW offers a rare opportunity to access many local musicians in one place. Naoum estimated that a project like this could otherwise take six months.
Although the van is an essential part of the project, he noted that not everyone involved will cram into it for the roadtrip to Texas.
"We're not piling everyone into the van. [The musicians are] all going on their own," he explained.
And after the roadtrip is over, D.C. residents can expect to see the vehicle around town. Naoum said that Listen Local First D.C. plans to, "throughout the summer, work on doing pop-up shows in D.C."
Until then, they will be focusing on the maiden voyage to Austin.