Considering the rate at which "fast fashion" retail outlets like Topshop and Forever 21 churn out clothes, it's no surprise there are some mistakes along the way.
The latest? A glaring misspelling... of one of Britain's greatest literary heroes.
The error popped up on a tee-shirt by the brand Tee & Cake called The Romeo tee. Sold on Topshop's website, the tee featured the phrase, "Romeo, Romeo Wherefore Art Thou Romeo? Shakespere."
Cute tee? Sure. Bad spelling? Probably, considering the most widely accepted spelling of the Bard's full name is William Shakespeare.
The error was noticed by blogger Swonderfulsmarvellous, who wrote about it several weeks ago, then was picked up by more mainstream news sources like the Daily Mail this week.
The product is already gone from the website, of course. Yet there is a curiously similar shirt remaining on Topshop.com's UK site. Listed among the Tee & Cake selections is the Romeo Crop by Tee & Cake, described as "White cropped t shirt featuring William Shakespeare Romeo quote by Tee and Cake."
The quote is the same -- "Romeo, Romeo Wherefore Art Thou Romeo?" -- minus the author's (misspelled) name. With the hem of the tee jaggedly cut, could it be that Topshop simply cut the "Shakespere" off the bottom? Or is this just a cropped version of the old tee? We're confused.
We've reached out to Topshop to get to the bottom of it... and in the meantime, if you're in the market for a "Romeo and Juliet"-inspired crop top for summer, you can order one on Topshop.com for just £20.00.
Check out the original shirt, as captured by the Daily Mail, and the cropped version currently for sale.
UPDATE: Topshop has confirmed to us that it did in fact modify the remaining shirts, removing the misspelled "Shakespere" part to turn the regular tees into cropped tees.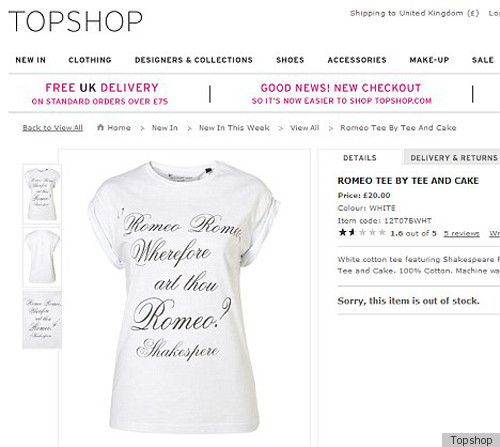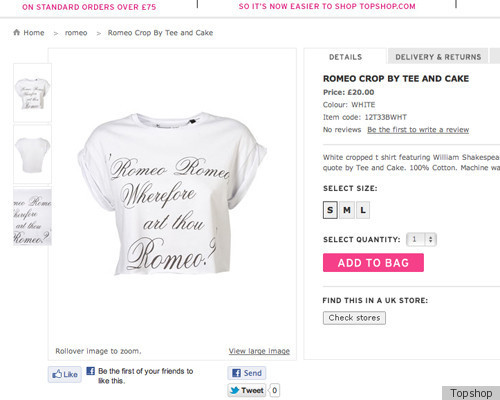 BEFORE YOU GO