Well this is a sentence we never thought we'd write: four people have been injured by a giant, falling Kate Moss.
The BBC reports that a giant Mango billboard, featuring spokesmodel Kate Moss wearing the new Spring collection, fell over on Oxford Street in London today. Although there have been no fatal injuries reported, three fire engines, four fire rescue units and three ambulance crews, as well as "two single responders in cars, a motorcycle responder and a duty officer," were on the scene, writes the Independent.
Three women and one man were taken to the hospital, as traffic was halted and nearly a dozen buses idled nearby. As policemen and workers worked to secure the billboard again, bystanders tweeted and took pics (a few of which we've embedded below, natch -- hooray for citizen reporting!).
We previously praised Kate's new Mango campaign for its light, breezy springtime feel. We might have to rethink the "light" part.
Check out the falling Kate mayhem and read more at BBC.co.uk.
BREAKING NEWS: Kate Moss held by police on Oxford Street. twitter.com/ronniejoice/st…

— Ronnie Joice (@ronniejoice) March 7, 2012
Kate Moss* on rampage and injures 4 people on #OxfordSt !yfrog.com/nud94jmj*billboard

— Neal Davies (@nealdavies) March 7, 2012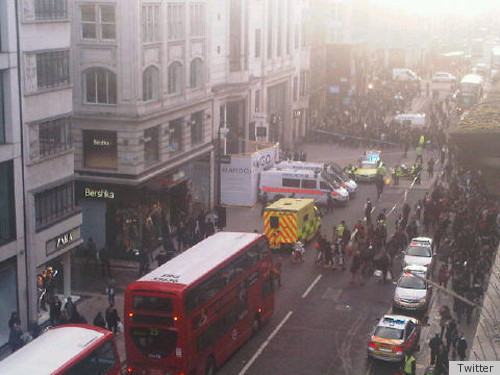 BEFORE YOU GO