Yves Saint Laurent may have started it all with "Le Smoking," but pantsuits are still going strong for ladies with style. There are a million ways to wear it, from Gwyneth Paltrow's understated black suit at yesterday's Louis Vuitton show to Florence Welch's wild all-over floral print at last week's NME Awards after-party.
Today Elizabeth Olsen decided to try a bold fabric in a subtle color. On her way to the "Today" show studios on Thursday, the "Silent House" star paired a maroon jacket and pants with a white blouse, adding in a fun print with her snakeskin heels.
She also wore chic shades by the brand that bears her name: Elizabeth & James (created by her older twin sisters, natch).
Between the ladylike shoes and the buttoned-up top, this look nicely marries ladylike sophistication with a sleek menswear vibe. But is head-to-toe velvet a bit much?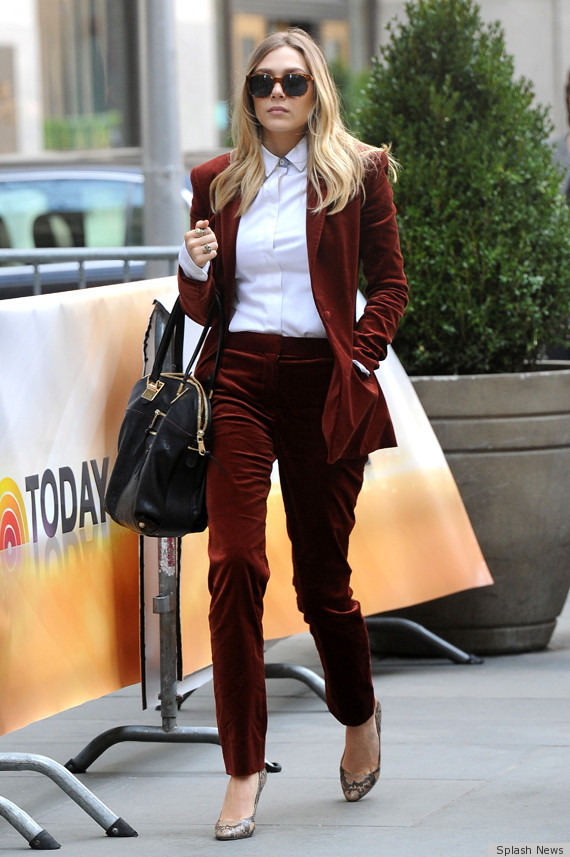 BEFORE YOU GO
Check out Elizabeth Olsen's style evolution:
PHOTO GALLERY
Elizabeth Olsen(CLONED For HuffPost Style