Kristen Bell recently proclaimed that she's been obsessed with sloths for as long as she can remember. But now comes another revelation.
"[Butts are] My favorite things on the planet," Bell tells Women's Health in the magazine's April 2012 issue. "I want two round cupcakes, always. I kicked my buns and abs sets into high gear when I knew I'd have to be in my bra and underwear on 'House of Lies.' But I don't show my crack! All the Mr. Skins of the world are like, "ooh, Kristen gets naked!' I'm like, 'Dream on!'"
The 31-year-old actress professed her admiration for "House of Lies" co-star Don Cheadle's derriere, in particular: "If you had those beautiful chocolate bun-cakes, you'd show 'em too, let's be honest."
Bell presumably also finds her fiancé, Dax Shepard, pretty adorable. Fortunately, the pair spent some quality time together while making the forthcoming flick "Outrun." "I would watch him walk back to the monitor and yell things such as 'Action!' or 'Cut!' and I'd just go, 'And you expect me to work when you're doing cute things around me all day? How am I supposed to focus?'" she told Women's Health.

She also sung the praises of Shepard's culinary skills. "He makes this delicious spaghetti dish… about twice a year," she says. "I wish he cooked more. [Actually] I don't wish he cooked more. He's a very good cook, but I'm quite territorial in the kitchen. It's like, if I went outside and fixed the car, he'd be like, 'Whaaat?'"

For more on Bell, head over to WomensHealthmag.com, and pick up the April 2012 issue of Women's Health March 13.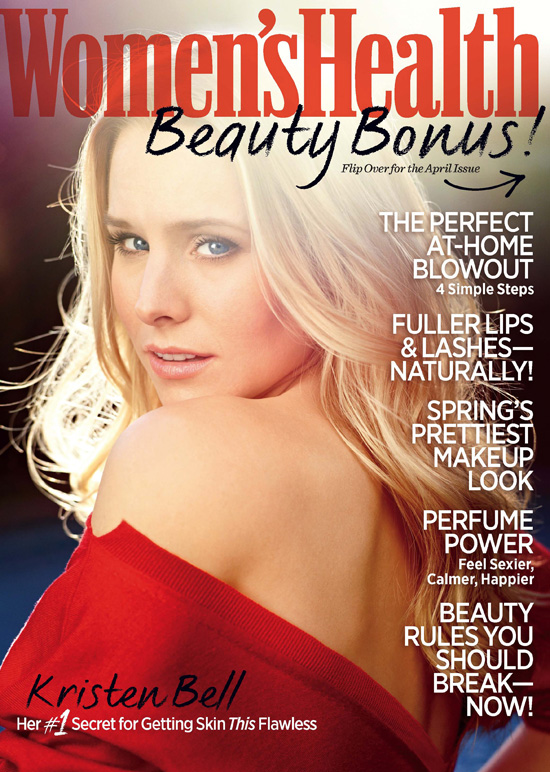 Jeff Lipsky / Women's Health
More celebrity couples:
BEFORE YOU GO
PHOTO GALLERY
Celebrity Couples