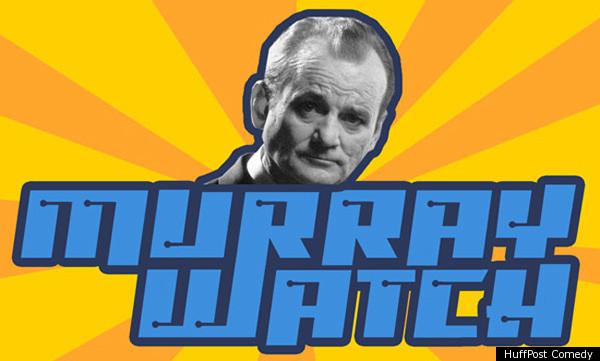 Who doesn't love a Bill Murray story?
We're not talking about "Caddyshack" here. We're talking about the man, the myth and the legends that form whenever Bill Murray graces the real world with his presence.
As you might have heard, there's an entire website devoted to the former Ghostbuster's encounters with regular folk and the hilarious things he says and does to them with the notion that "No one will ever believe you."
Some of the greatest Bill Murray stories have come out of Austin, TX's South By Southwest festival, where Team HuffPost Comedy happens to be right now. So, we're doing the only natural thing and starting an official Bill Murray Watch for SXSW 2012, complete with live updates. Because why not?
If you catch sight of Bill Murray in Austin, hear about him crashing a party or have an encounter with him yourself (we'll believe you) let us know by dropping us an email or tweeting at us and we'll feature your story in our coverage.
In the meantime, we'll be on the watch for him down here in Texas and sharing every Bill Murray story we hear along the way.
Awesome "Murray Watch" graphic courtesy of Corey Pandolph
03/19/2012 10:35 AM EDT
Murray Out
After our surreal Bill Murray encounter on Friday evening, we kept an eye and an ear out for reports of other sightings around Austin. Since it was also St. Patrick's Day, we figured Murray wouldn't be staying in for the night.
On Saturday night, he was spotted on stage with The Nerves. Later, he was seen partying at the Burger Records' Burgermania, where plenty of people tweeted and posted pictures of him enjoying himself, like below:
At some point that night, he even found time to help Tia Carrera guitarist Jason Morales load his gear into a van, as Austin360 reported.
On Sunday morning we headed back to New York, but Murray stayed in Austin one more night, finding more opportunities to surprise and delight the last of the SXSWers at Javelina Bar.
This morning, we saw on Twitter that he was probably hitting the road:
@HuffPostComedy farewell Mr. Murray, Austin will miss you. Just spotted cracking up TSA agents in line at AUS.

— Shannon Cromer (@ShannonCromer) March 19, 2012
And so ends another SXSW with a new set of Bill Murray stories that people will never believe. Did we miss any other noteworthy encounters? You can keep sending us your stories until we do it all again next year. Until then, we'll be watching "Ghostbusters," "Caddyshack" and the first season of "SNL" to tide us over.
03/17/2012 10:11 PM EDT
He's Still At It

It seems Bill isn't done with Austin just yet.
Before The Nerves played at Spiderhouse, Murray took the stage and Kid Congo Powers was able to snap a quick pic.
Are we in for another night of shenanigans?
Click here for the picture.
03/17/2012 4:02 PM EDT
No One Will Ever Believe This
So, about last night...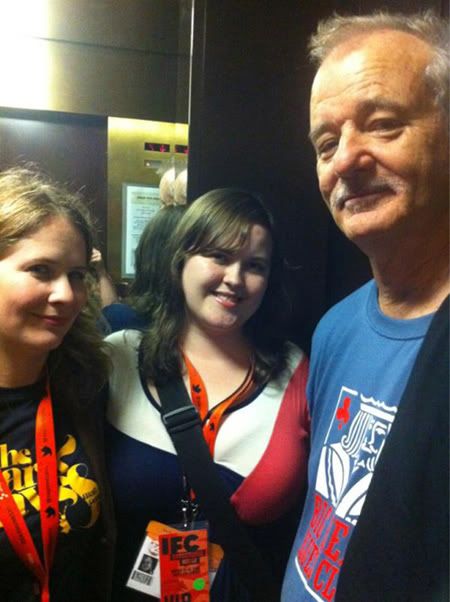 We were hanging out at Esther's Follies watching the last stand-up showcase of the night, when around midnight we started checking to see if there were any new tweets using our #MurrayWatch hashtag. What we saw nearly knocked us on the floor. Not only was Bill Murray sighted at The Third Man Records show featuring Jack White, but it was all going down RIGHT across the street from Esther's.
We ran outside to see a huge crowd swarming the venue. As we waited outside some yellow tape seperating us from the at-capacity show, we saw more reports coming in from Twitter that made us insanely jealous:
No secret guests but a blistering set and Bill Murray singing loudly while standing on top of the bar? Well done Jack White. #SXSW

— Twitter Music (@TwitterMusic) March 17, 2012
We knew this was our chance. We waited for an opportunity, then sprinted inside the venue as soon as White finished his set.
And there he was.
Standing near the bar, Murray seemed calm as as people frantically snapped photos of him and tried to get his attention. We finally broke through and were able to shake his hand and say hello, but not take a picture. I had a Murray Watch flyer in my bag. At the risk of coming off like a total stalker, I took one out and asked if he had seen them around town. He threw his head back and laughed.
Interested to see what he would do next, we trailed behind as he left through the back door of the venue, along with a dozen other SXSW revelers whisper-yelling things like, "Is that him?" and "HOLY $#*! THAT'S BILL MURRAY." Soon, Murray and his entourage were leading a small parade through downtown Austin, once stopping to take a picture with Austin's finest.
We ended up at the Hilton, where Murray, his assistants and a few lucky HuffPost Comedy editors piled into an elevator and headed to the 18th floor. At one point, he looked at me and asked what I was doing there, adding that I didn't seem trustworthy. I assured him that we were as we exited the elevator to see folk music trio The Spring Standards finishing their set. Murray asked if they could play just one more song. To the delight of the crowd and the chagrin of the Hilton employees, they obliged.
James Cleare, one member of The Spring Standards, emailed us about his band's encounter and sent in a picture. He wrote: "Murray was super complimentary and appeared to really enjoy the music. After taking some pictures and exchanging some funny anecdotes, he split for his final resting place. What a man, what a myth, what a legend!"
After the song, we got into the elevator with Murray and company once again. There, he was nice enough to let us snap the photo with him at the top of this post -- and thank goodness he did.
Otherwise, no one would ever believe this.
03/15/2012 3:11 PM EDT
Have You Seen Our Flyers?
The HuffPost Comedy team has been putting up our Bill Murray flyers all around downtown Austin. Have you seen them? Tweet a picture with our hashtag #MurrayWatch if you do!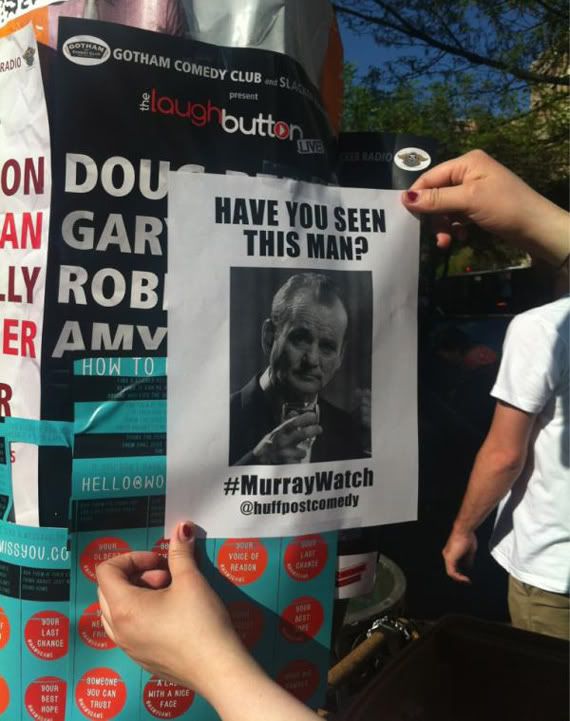 Our friends over at Spinner are also helping us with our search by spreading the word on Twitter. One person in particular had a funny reply:
Hanging with @HuffPostComedy! They're #sxsw coverage is the best. Help them/us find Bill Murray!

— Spinner.com (@Spinner) March 14, 2012
03/15/2012 2:44 PM EDT
Bill Murray Cave Party Sighting at SXSW 2006
The other night at Eshter's Follies we ran into someone with another Bill Murray story from SXSW. During the 2006 festival, Murray apparently crashed a party in a cave (yes, a cave) and interacted with revelers in his signature "No one will eve believe you" way. Check out the story below:
03/14/2012 3:00 PM EDT
'Ancient' Bill Murray Sighting
It may not have happend at SXSW, but the following Bill Murray encounter sent in by reader Gary Scheft had us laughing. It occurred in New York City more than 30 years ago, but all the right elements of a great Bill Murray story are there: chaos and confusion followed by delight, followed by a surreal goodbye:
"It was a very rainy Saturday during a 'shoe show' in NYC in the 70s. I was in the Georgio Armani store (his first, on Madison, I think) and the place was empty save for Bill and me. He was definitely in a kind of elevated mood, as he grabbed one of the very lovely and austerely dressed 'shop girls,' got her in a headlock and started administering noogies to her head… It was somewhat surreal in this first controlled Armani environment. With the show over and Bill heading out, we found ourselves both at the front door contemplating the downpour. Standing close, I thrust my hand out and said, "I am so glad you got this chance to see me." We shook hands and both parted into the rain.
03/14/2012 2:44 PM EDT
Did Diplo Beat Us To The Punch?
Oh ARE YOU? #murraywatch RT @diplo At sxsw breaking into iron works with bill murray

— HuffPostComedy (@HuffPostComedy) March 14, 2012
03/13/2012 2:01 PM EDT
Tim Heidecker Supports The Search
At yesterday's Comedy Bang! Bang! show at the IFC Roadhouse, we ran into Tim Heidecker of "Tim & Eric" once again and showed off our flyer. He was cool enough to take a picture with me in support of the search:
03/13/2012 1:34 PM EDT
Another Hot Tip
Yesterday we started putting put our #MurrayWatch flyers around downtown Austin. After spreading the word at one of the day parties, Austin-based comedian Cameron Buchholtz told us he has a feeling we'll be seeing Murray this weekend. Could we be so lucky?
@katlamcglynn I heard from a very reliable source last night that Murray doesn't get in until Friday. #murraywatch

— Cameron Buchholtz (@CBuchholtz) March 12, 2012
03/12/2012 2:55 PM EDT
Bill Murray: Li'l Cap'n Travis Fan?
A reader just sent in our first potential lead: It turns out that one of the bands Bill was seen rocking out to at SXSW 2010, Li'l Cap'n Travis, is playing again this year.
By the look of the photo below, Bill clearly enjoyed himself. We're not sure if he'd describe himself as a loyal fan, but perhaps there's a chance that he'll show up to see them once again.
Photo courtesy of Jill Johnson