Enhance your slumber and get a restful night's sleep with this Craft Of The Day. Though it requires some sewing, this eye pillow (intended for humans) and its lavender-scented aroma will restore and relax. Keep reading for the how-to.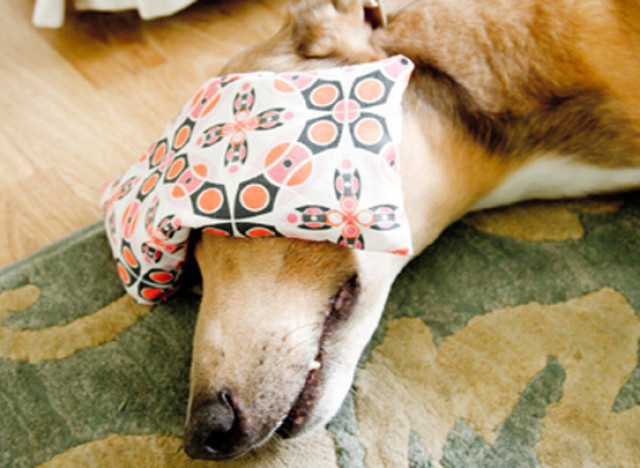 Photo by Hanri Shaw of Yoga Hound
What You'll Need
Plain cotton, muslin or calico fabric
Decorative fabric (For example: Silk or cotton with prints)
1 1/2 cup of flax seeds
Dried lavender or an essential oil
Sewing machine
How To Make It
1. Mix flax seeds with 1 teaspoon dried lavender or another essential oil.
2. Fold a 25 cm by 25 cm piece of plain fabric in half.
3. Sew along one side and top.
4. Turn fabric inside out so the seams are hidden, and fill with the seed mixture.
5. Once full, fold in 1 cm of last open side and sew to close.
6. To make the pillow case, cut a 55 cm-wide and 14 cm-long piece of decorative fabric.
7. With the plain side out, fold in the edges 1 cm and sew.
8. Fold the fabric in three so it measures 24 cm in length.
9. Sew along the bottom side.
10. Flip the pillow case inside out and insert the cushion.
11. Sew the top side.
For a full tutorial, visit Yoga Hound. And, be sure to check out the other great crafts in our Craft Of The Day slideshow below.
PHOTO GALLERY
Craft Of The Day