One year after the tsunami and earthquake that devastated the northeast coast of Japan and left thousands of people dead, Robert Michael Poole and photographer Benjamin Parks traveled to Ishinomaki, one of the worst-hit towns, to ask survivors how the recovery is progressing, about the government's response to the disaster, and how the people are coping.
Survivor: Yoriko Miura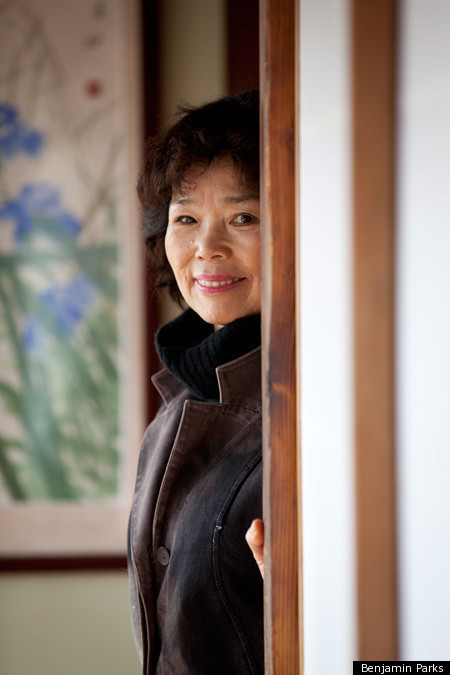 65-year-old art gallery and cafe owner Yoriko Miura runs one of the few hives of social activity for the youth of Ishinomaki. The business displays her own work as well as exhibitions of other locals artists. Ms. Miura continues to receive regular visitors. Her strength and determination are visible as she holds back the tears from the loss of her daughter in the tsunami.
Where were you when the tsunami struck?
[Miura] I was having the opening day of an event here at my gallery. People from Ishinomaki could get home quickly, but not people from Sendai. We all ran to the mountains. I suggested to the people from Sendai who don't know the geography around here that they go home over the mountains. They did so, and got home safely. I locked my house, and told my daughter to flee with our computer and her child. She went out of our house before me. As I was going out, water from the tsunami came in through the entrance hall, but I somehow escaped and got in my car. I drove to my deceased husband's graveyard with my dog 'Happy,' and stayed there for two snowy nights.
My daughter died. She had bought a new home, but when the tsunami came, suddenly it fell apart, and she was pulled into a whirlpool of water and washed away.
How did you survive?
About 400 people from different countries came to help. I got home earlier than others; it was five days after the earthquake. My son's wife came here from Akita prefecture to help us. They used a pump to get water from the river and clean the mud in the house with it. At first there was no food, and we only got electricity and water in May. Until then we just used a candle, and had to pee in the bushes, instead of inside. So it was like medieval times, but slowly we got used to it.
How did it affect you?
In my area, 38 people died. I'm thankful that I wasn't one of them. It's had a bad effect on this area -- all the buildings in front of my gallery were destroyed, and of course customers don't come as often. There are many people who can't even look at the river; it's too emotional for them.
What is your hope for the future?
I will keep on doing my business for four or five more years. But I fear that the local authorities will not try to restore this city -- it's impossible -- and that they may try to vacate the land here.
Is the government doing enough?
People in temporary housing are well-supported. But some people who feel a strong attachment to their own homes want to live there, even though life in the temporary housing is better and their individual lives at home are very difficult at the moment. And those kinds of people are not supported by the government at all.
What can we learn from this disaster?
Nature is very strong, and it's important to get to an elevated place when a tsunami happens.
How are the elderly coping?
I don't really know. When I was escaping by car, I saw two older people getting away, and I picked them up. Older people who live alone are in a very sad situation, especially when their relatives live far away and cannot visit them.

Click here for more Japan 2011 tsunami anniversary coverage.
About the co-author and photographer:
Robert Michael Poole is a Tokyo-based writer, editor and entrepreneur whose work has been published by Newsweek, Wall Street Journal, CNN and Associated Press. He focuses primarily on the Asian entertainment scene, as well as lifestyle, travel and international issues affecting the region.
Benjamin Parks is a Canadian photographer based in Tokyo. He specializes in editorial and corporate portraits as well as product photography and videography. Some of his clients include Eurobiz, Metropolis, In Style, Columbia Law School and Bluetooth Signature magazines as well as Ferrari, DHL and United Colors of Benetton.
More Ishinomaki Survivors Speak:
PHOTO GALLERY
Tsunami Survivor Stories