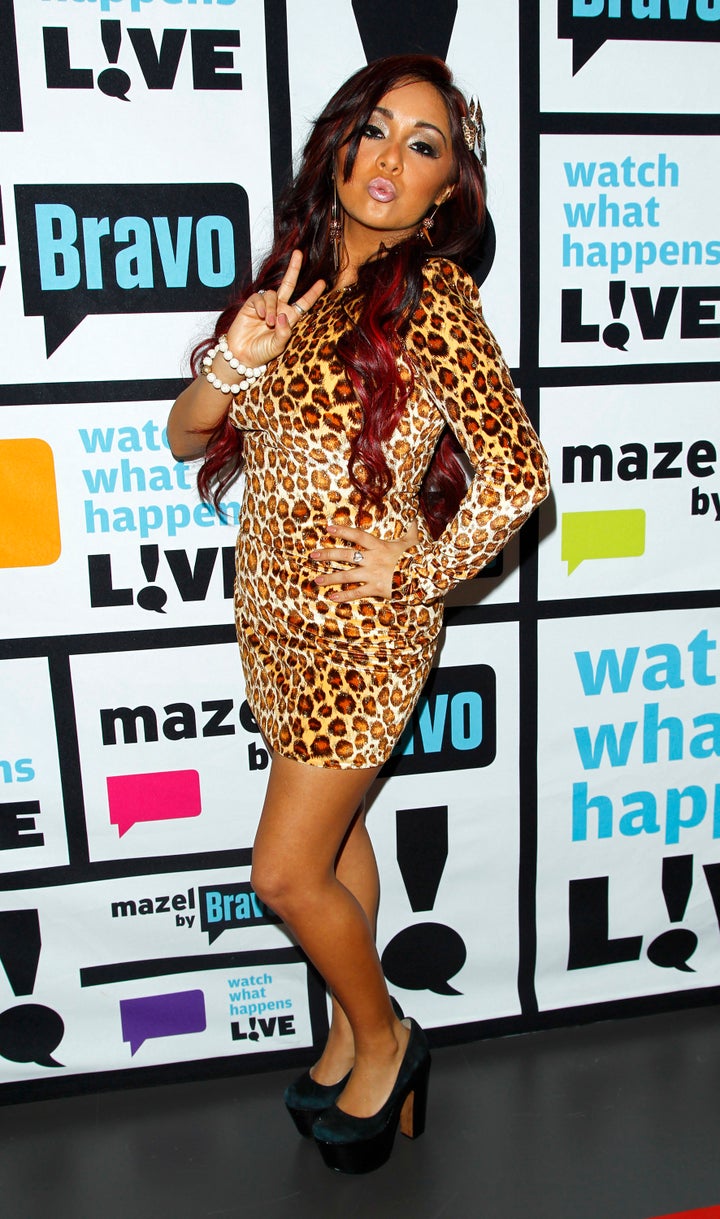 State Sen. Diane Savino (D-Staten Island) told the New York Daily News that she believes the reality television star should focus on her unborn child and said that she should stop drinking (although there is no evidence that Snooki has continued to consume alcohol since learning of her pregnancy).
"I just hope someone talks to her about fetal alcohol syndrome," Savino, the chairwoman of the Senate Children and Families Committee, told the Daily News.
Snooki -- whose real name is Nicole Polizzi -- announced last week that she is pregnant and engaged to longtime boyfriend Jionni LaValle.
"We don't wish anything bad on her. I hope her baby is healthy. Here's a chance for her to change her image and become a positive role model," Savino told the Daily News.
Snooki told US Weekly that she discovered she was pregnant right after New Year's and that her first thought was "S**t, I've been drinking!" She told the magazine that she has since changed her behavior, however. "I'm not living in that house being pregnant," she told the magazine about continuing to appear on the MTV show "Jersey Shore."
"I don't want to be one of those moms who's pregnant in a club. It's disgusting," she said.
This is not Savino's first public scolding of Snooki. In October, she teamed up with Assemblywoman Nicole Malliotakis (R-Staten Island) to criticize the Staten Island Mall for inviting Snooki to make an appearance promoting her line of sunglasses. At the time, the Staten Island Advance reported that the bipartisan pair said the mall used "poor judgement" and that Snooki and her "Jersey Shore" castmates were not role models.
Savino is the latest in a line of politicians to go after Snooki. New Jersey Gov. Chris Christie (R) has publicly criticised the show, and one of Christie's closest legislative allies, Assembly Minority Leader Jon Bramnick (R-Westfield) has run two consecutive video contests aimed at showcasing that the Shore is more that what appeared in the MTV reality show.
Bramnick, who has called the show a "bar fight" and "ridiculous," told Westfield Patch when he launched his first contest in 2010 that he wanted to showcase another view of the Shore.
"I assume people want to watch it," Bramnick said in 2010. "There is cage wrestling too and that is not 'War & Peace.' There are all kinds of things on TV. Why not have the real Jersey Shore too?"
In January, Hoboken, N.J. Mayor Dawn Zimmer (D) rejected a permit for MTV to film a "Jersey Shore" spin-off showcasing Snooki and castmate Jennifer "J-Woww" Farley as roommates in a Hoboken apartment. Zimmer's neighboring mayor, Jersey City's Jerry Healy (D), did allow the show to go forward in an apartment in his city's waterfront.
Healy's opponent in the 2013 mayoral election, Jersey City Councilman Steve Fulop (D), led his city's Snooki opposition, saying that city officials should have "pride" in the city and that Healy's decision did not convey that.

BEFORE YOU GO