Ron English is an outlaw of sorts, known for converting cultural icons into agitprop creations that make us pause and reconsider the objects, cultural figures, and packaged goods around us. But don't for a second think that his status as an icon of the art world means that he isn't still a threat; the artist will always be exploring the fraught relationship between advertising, art, and activism.
Advertising constantly re-appropriates movements and ideas to sell a product; English managed to turn that same tactic on its head in his work by hijacking the imagery of the powers that be and liberating them from their corporate agendas. The Opera Gallery put it well: "English exists spiritually somewhere between a cartoon Abbie Hoffman and a grown-up, real-life Bart Simpson."
One of his most recognizable pieces melds the faces of two unifying presidents: Barack Obama and Abraham Lincoln. Another work shows the obese rapper alter-ego of Ronald McDonald named "MC Supersized" -- a work that would likely make Morgan Spurlock proud.
We asked the legendary art bandit some questions about his work, and his answers are below. Scroll down for a slideshow that will make you reconsider a lot of beloved American brands.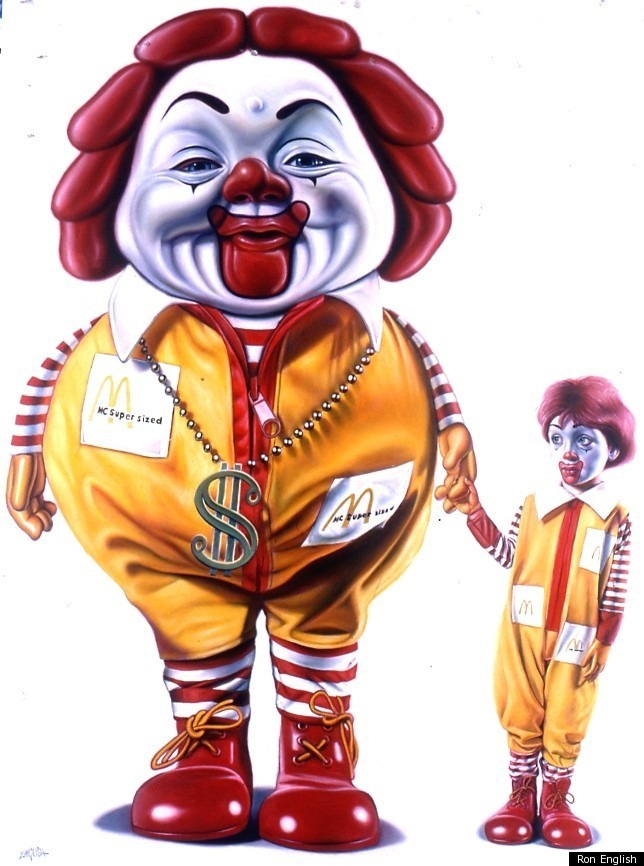 HP: You co-opt a lot of characters from advertising and pop culture for your work. What stands out for you in terms of interesting characters you want to work work with and re-appropriate?
RE: Most recently I have been working with the famous cereal characters from my childhood, where I'm engaging in the other side of the conversation with them, like "Hey, remember me? You used to sell me sugary cereal in the 1960's? Did you eat as much of it as you asked me to? Would you mind if I indulged in a little truth in advertising?"

HP: You have a reputation as an art prankster. Do you think it is necessary to be an outlaw or outsider to make worthwhile art?
RE: It's probably not necessary, but it sure helps. If I want to make a counter statement to an advertising campaign in the same arena (i.e., billboards) I have to resort to the outlaw approach. Call up the billboard company and try to rent a few billboards showing Ronald McDonald as a morbidly obese diabetic. Yep, they hung up on me too. Fortunately I have a ladder and a healthy disrespect for the law.
HP: You critique and combine elements from religion, capitalism, advertising and politics easily, as if they are all different ideas on a level playing field. What's the difference between consumerism and religion, or do they boil down to different manifestations of power?
RE: Consumerism and religion are similar manifestations of ego and the desire to dominate in partnership with the need to be dominated as a rite of passage towards tribal acceptance. The Catholic Church is a franchise no different than McDonald's if you overlook the church's exemption from the tax rolls or McDonald's sacrifice of cattle. Religious affiliation, brand loyalty, nationalism, political partisanship, all the same side of a two-headed coin. The art world is also tribal. Ever seen a pop surrealist and a minimalist having a beer together? Me either.
HP: Does your work aim to provoke social change or are you more in it for the creative act?
RE: Social change is always an artist's ultimate goal, except when the ultimate goal is cash. Acting out creatively is also its own reward. Of course you can't take that to the bank.
HP: What's the craziest thing a fan has done out of love for you and your work?
RE: People have hand-painted my face on a billboard illegally, tattooed my art on their body parts and written songs about me, but the thing I am always most impressed with is the parting with hard earned cash for paintings that the buyers will forever be obliged to explain to their family and friends
Which corporate giant should English take on next? Let us know in the comments section.
PHOTO GALLERY
ron english
BEFORE YOU GO