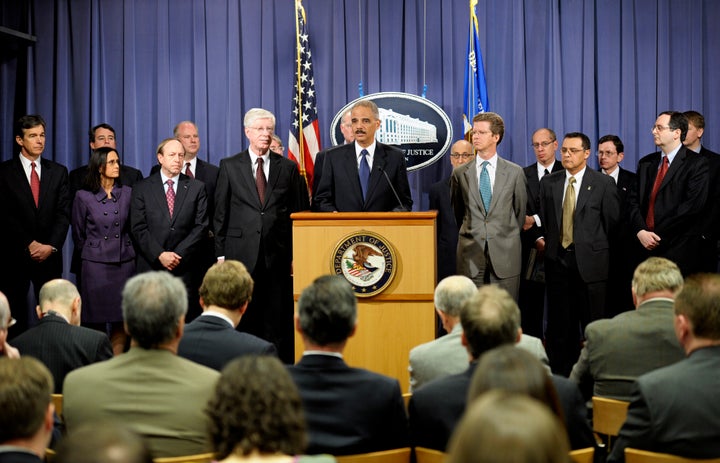 * Previously announced pact filed in federal court
* Banks commit to $25 bln, much as mortgage relief
* Ally Financial negotiated reduced penalty - sources
* Federal officials tout strong enforcement mechanism
WASHINGTON, March 12 (Reuters) - A previously announced $25 billion mortgage settlement will be closely policed to make sure banks follow through on promises to offer wide housing relief to Americans, federal officials said as they filed the long-awaited pact in court on Monday.
The deal, announced last month and filed in federal court in Washington, D.C., requires five major U.S. banks to help struggling borrowers to settle accusations they pursued faulty foreclosures and misled borrowers who sought loan modifications.
The banks did not admit to the allegations laid out in the complaint, but the government said its intention was to "remediate harms allegedly resulting from the alleged unlawful conduct."
While the Obama administration's previous efforts to jumpstart a housing recovery have not lived up to their initial promises, officials believe this time may be different.
The settlement includes an independent monitor who will ensure banks comply with the new mortgage payment processing standards through a "very specific" sampling process, test questions, and error thresholds, an Obama administration official said in a briefing with reporters on Monday.
The results will be publicly reported, said the official, who declined to be named.
The settlement documents - filed as one lawsuit and five separate consent judgments with Bank of America, Citigroup, JPMorgan Chase, Wells Fargo, and Ally Financial - provide little detail about the misdeeds government investigations uncovered.
But the documents devote hundreds of pages to detailing how different types of relief will count toward the banks meeting their obligations under the settlement.
Banks are required to provide 30 percent of the relief in the form of cutting mortgage debt for borrowers who owe more than their homes are worth, but the banks receive different amounts of credit for different scenarios.
Banks only get credit for reducing debt for homes where the borrower owes up to 175 percent of the current value, for example.
They get full credit if they own the loan, but 45 cents of credit for every dollar of reduction on a loan they service for a separate investor.
Banks are expected to bring a borrower's monthly payments to within 31 percent of a borrower's income, and establish a new loan value that is no greater than 120 percent of the value of the home.
Some banks negotiated separate requirements.
Ally Financial, for example, negotiated a steep discount on the fine part of its settlement, based on an inability to pay it, according to people familiar with the matter.
It was expected to pay some $250 million, but the Justice Department cut it to around $110 million, these people said.
In exchange, it committed to solicit all borrowers in its own loan portfolios and to offer to cut principal for delinquent borrowers down to 105 percent of the home's value. It also offered to refinance underwater borrowers who are current on their payments.
A spokeswoman for Ally did not immediately respond to a request for a comment.
Bank of America, which had the largest exposure to the settlement due to its 2008 purchase of the troubled subprime lender Countrywide Financial, also agreed to offer deeper cuts for its underwater borrowers.
The bank has agreed to contact more than 200,000 borrowers and will potentially cut their debt to the current value of the home.
In exchange, Bank of America can avoid up to $850 million in payments.
BEFORE YOU GO