Do-it-yourself furniture upholstery may seem daunting, but with Shelly Leer's upholstery boot camp you can overcome fabric-covering fears, learn new techniques, and have a beautiful finished product -- in three days!
Leer first started her intensive, three-day upholstery program in response to the lack of instructional in-person classes offered around the country. So not surprisingly, many of Leer's students trek from all over to learn the waning art of upholstery in her Indianapolis studio.
"After searching in my area for someone to teach me, which was unsuccessful, and poring over books trying to figure it all out, which was confusing, I ran past Shelly's bootcamp classes and jumped at the chance," says Casey Biuso, who flew in from New Hampshire. It paid off. Biuso recently attempted her first solo chair makeover and transformed an old and extensively damaged piece (seen below) into her family's favorite new seating.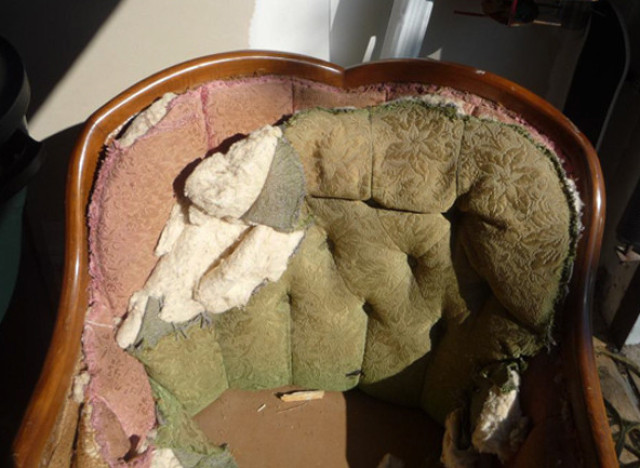 Biuso's chair before her solo upholstery project. Photo by Shelly Leer of ModHomeEc
But what's the draw to DIY upholstery? Leer says her boot camp goes beyond a learning experience; it can be a social and therapeutic one, as well. In fact, several students take the class with a friend or use it as a retreat from the daily grind. "There's something about working on your projects and talking and meeting new people," Leer explains. "You feel like you're refreshed after you're done. It's something very satisfying and there's an extreme sense of accomplishment." There's also the unique factor, Leer adds, saying: "You know that your neighbors aren't going to have the same thing."
In three days, Leer takes her students through a process that usually takes people weeks or even months to finish. Here's how she does it.
Breaking it down. In the first day, the students tear apart the chair piece by piece, taking photos of each step and labeling each piece so they can refer back to photos when constructing the chair again. Although it may seem tedious, the process is a great communal experience, assures Biuso. "Shelly is also a blast to hang out with in the shop since she has so many interests, which makes the tougher parts, like pulling out thousands of staples in the tear down process, much less grueling," says Biuso.
Setting a foundation. The second day involves learning upholstery techniques and installing sturdy and more comfortable seating support. Students learn how to weave jute webbing, which adds more spring to the chair. They also learn how to cut foam and patterns and use Dacron, a fabric padding that wraps around foam. "Now, it's teaching them upholstery techniques that they can use on everything," Leer explains.
Putting it all together. The last day is dedicated to assembling the entire chair and asking any remaining questions. "It's grueling," Leer says. "Those last hours are delirious, but you just want to get finished. It's a lot of pressure there at the end." However, after the students add the trim and see the final product, they are excited and proud, she adds.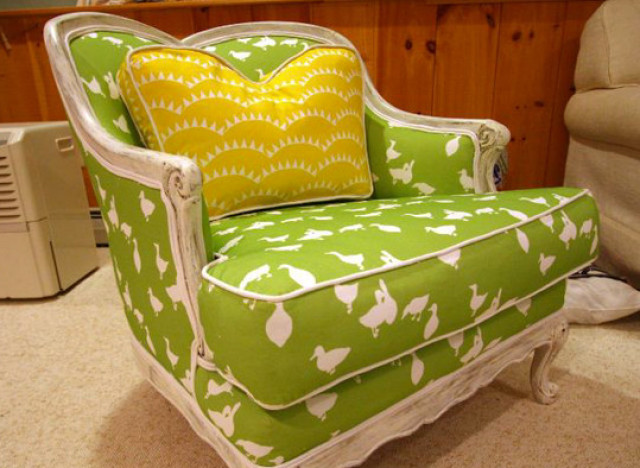 Biuso's finished chair. Photo by Shelly Leer of ModHomeEc
To learn more about Leer's bootcamp classes and to see more photos of Biuso's solo upholstery project, visit ModHomeEc.
What do you think of Biuso's chair makeover? And, are you considering upholstery projects of your own. Let us know in the comments!
Have something to say? Be sure to check out Stylelist Home on Twitter, Facebook and Pinterest.
BEFORE YOU GO