On a recent Netflix-streaming binge, I stumbled upon "Unzipped," a cult documentary that followed designer Isaac Mizrahi as he designed and showed his fall 1994 collection. With appearances by supermodels Naomi Campbell, Linda Evangelista, Kate Moss and Amber Valetta (not to mention a 5-second cameo by our senior beauty editor Simone Kitchens' former model sister, Amy Kizer), the drama-filled film was the start of Mizrahi's high-profile, on-camera career, which is his main focus since his high-end line Isaac Mizrahi shuttered in 1997, and has included cameos on "Sex and The City," "Ugly Betty," and "Gossip Girl," in addition to serving as a judge on Bravo's "The Fashion Show" and now "Project Runway: All-Stars."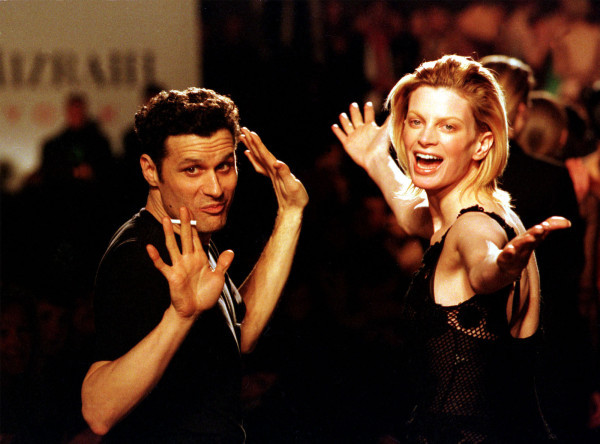 Isaac Mizrahi with model Kristen McMenamy in 1997
Getty Images
On-screen stardom comes naturally to the designer, who attended New York's Performing Arts High School and had a small role in "Fame" at age 15, "For four years I considered myself a professional actor," Mizrahi admitted when we chatted with him over the phone, "but, somehow, while studying to be an actor, I kind of got sidetracked by fashion." While he doesn't have regrets over his career choice, Mizrahi explains, "I played music for years and years and years, I played the piano, I could have gone into that, but the muses, the Gods, they pushed my hand into fashion. "I thought that, at the time, there was such an incredible glamour, such a wonderful back story that no one was telling about the supermodels, what it was like in fittings, backstage, etcetera," Mizrahi explained, admitting, "Frankly, I was more intrigued by that than I was by what was on the runways."
Although Mizrahi is proud of the film ("People stop me on the street and say, 'I loved 'Unzipped,'' and that it's kind of encouraged them to go forth with their own creative process"), he isn't without regrets. "There are a lot of dramatic things that happen to me in the course of a day, and one of them is acknowledging what people say about me. That is a drama, but it isn't the central drama of my life and it is the central drama of that movie. So I think that forever people will think of me as this person who really cares that much about what people say about me. I am much more secure in my creative process than is shown."
Mizrahi is secure enough in himself to admit his guilty pleasure is another Bravo show, "The Real Housewives" - but only the New Jersey, New York, Beverly Hills and Atlanta editions. "Beverly Hills is amazing, right? I don't watch the OC for some reason. I know that's the original, but..." don't expect to see Mizrahi on the New York City male version of the show any time soon: "You're at the mercy of these editors and producers, and you become a character in a fabulous story that they're telling. I need to have control, complete control."
Entirely innovative at the time, Mizrahi's "Unzipped" began a trend of fashion documentaries and reality shows. "I loved the Valentino picture. I thought it was beautifully wrought," he said, adding, "I don't necessarily seek out fashion documentaries, I seek out the ones that seem interesting to me." As to whether or not we can expect an "Unzipped Part 2," Mizrahi admits, "I'm not interested in making another fashion documentary."
Watch some clips of "Unzipped" below:
Want more? Be sure to check out Stylelist on Twitter, Facebook and Pinterest.