Bruno Mars joins nine leading gentlemen before him in a role few men have had the honor of holding.
The Puerto-Rican-Filipino singer, who strikes a pose on the cover of the April issue of Playboy magazine, is the 10th man to carry the title.
Though Mars is not the first Latino to grace the cover, he is the first Latino man to claim the honor.
Peter Sellers became the first to snag the cover 48 years ago, followed by the likes of Burt Reynolds, Steve Martin, Jerry Seinfeld and, most recently, Seth Rogen.
The "Sex and Music" issue, which will be released Friday, features Mars serenading Miss April, Raquel Pomplun. Under the cover, Mars flaunts fashion for spring in a tropical photo shoot and reveals some of his musical inspirations in an exclusive interview.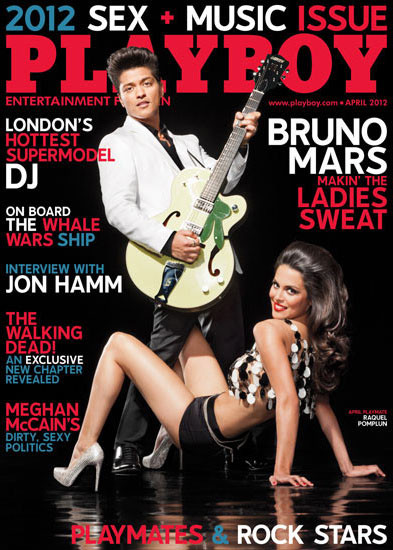 Mars is not the only Latino on the April cover of a prominent magazine. Grainy photos of the April cover of Vogue magazine have leaked, showing a ravishing Jennifer Lopez in red. The singer/actress, who recently filmed her latest music video in Mexico, commands the cover of the fashion magazine for its "Shape Issue."
Sofia Vergara will also dominate the month with her violet dress that shows off her form on the April cover of InStyle magazine. The Modern Family start is also set to host "Saturday Night Live" on April 7.
BEFORE YOU GO