You don't need a leprechaun's luck to create this adorable Craft Of The Day. With just a bit of shamrock green paint, you can transform ordinary snack bowls into charming party favors perfect for St. Patrick's Day. Fill them with chocolate coins for a sweet treat anyone would be happy to find at the end of a rainbow. Keep reading for the how-to.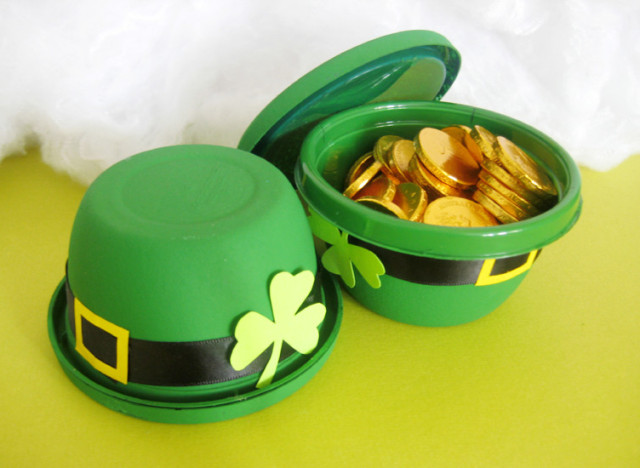 What You'll Need:
Small plastic snack bowls with lids
Green acrylic paint
Small paintbrush
Small sponge
Green and yellow card stock
Thin black ribbon for hat band
Double sided tape
Glue
Pair of scissors
How To Make It:
1. Using your small paintbrush, apply two coats of green paint inside and around the flipped up lip of your bowl. Let it dry.
2. Dip your sponge into the paint and dab it around the outside of the bowl for a textured look. Do this repeatedly until the bowl is entirely covered. Do not paint the inside of the bowl where it might come in contact with food.
3. With its top facing you, take the bowl's lid and paint around the rim using your paintbrush. Sponge paint the top of the lid the same way you painted the bowl. Do not paint the inside of the lid.
4. When the paint is dry, wrap your black ribbon around the bowl to measure how long your hat band needs to be and trim it accordingly. Use double sided tape to secure the ribbon in place above the lip of the bowl.
5. Cut a buckle shape out of your yellow card stock. Adhere it to the black ribbon using a dab of glue.
6. Cut a shamrock shape out of your green card stock for decoration and attach it using either glue or double sided tape.
7. Fill with candy for St. Patrick's Day.
For a full tutorial, visit Paper, Plate, and Plane. And, be sure to check out the other great crafts in our Craft Of The Day slideshow below.
PHOTO GALLERY
Craft Of The Day