A little burlap goes a long way with this deceptively simple Craft Of The Day. Create a beautiful ruffled lampshade without sewing a stitch. A hot glue gun is all you need to add interesting texture. Really--it's that easy! Keep reading for the how-to.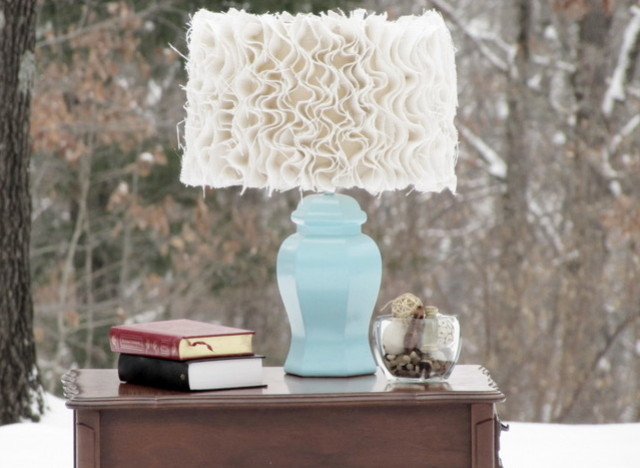 Photo by Terra of Mama Says Sew
What You'll Need:
Plain lamp shade
1 1/2 yards of burlap
Hot glue gun and 10 hot glue sticks
Scissors
How To Make It:
1. Cover your lampshade with a single layer of burlap. Measure out the size you will need by wrapping a piece completely around the shade and cut it accordingly.
2. Keep the the burlap layer in place by folding an inch of the fabric over the top and bottom edges of the lampshade. Add glue along the inside of the shade.
3. Cut the remaining burlap into strips that will be used to make ruffles. The strips should be twice as wide as you want your ruffles to be and 1.5 times longer than the lampshade.
4. Vertically fold the strips in half and iron along the fold to create a crease.
5. Starting at the top of the lampshade, attach each burlap strip by gluing a few inches in place at a time. Bend the strip into S shapes as you make your way down the lampshade to create a ruffled look.
6. Repeat this process with the other strips of fabric until the lampshade is completely covered. For a more textured look, make sure your ruffles do not all fall in the same direction.
For a full tutorial, visit Mama Says Sew. And, be sure to check out the other great crafts in our Craft Of The Day slideshow below.
PHOTO GALLERY
Craft Of The Day