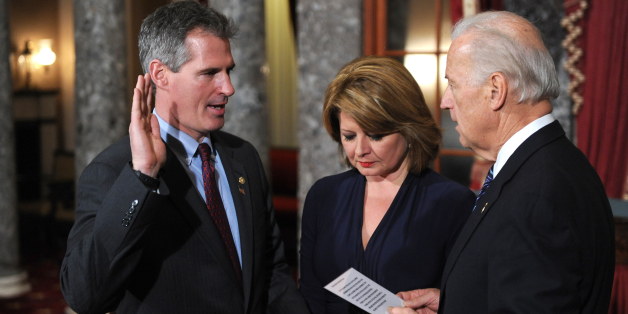 Visit the "Why I'm Running" section of Sen. Scott Brown's (R-Mass.) campaign website, and you find out that he is a "regular guy."
"In 2010, you made it possible for a regular guy like me to become a U.S. Senator. With that high honor, I set out to use what influence I have to ensure that every other kid lives in a country where it doesn't matter where you come from, only where you want to go."
Ask his wife Gail Huff, however, and Brown is "complex." In an interview with Esquire, the former Boston television reporter provides some details on their marriage, noting that there is more to her husband than meets the eye.
"He's not just the regular chocolate, he's the chocolate with all the nougat and the caramel and the nuts," Huff told the publication for its April profile on Brown.
Back in November 2010, Brown shook the Senate scene, securing the Massachusetts seat held for decades by legendary democrat Ted Kennedy. Likability was cited as a factor fueling his upset victory, and after following Brown around for the Esquire piece, author John H. Richardson gained an up-close view of that element of his character:
"And the truth is, almost everything I was able to see, I liked. Scott Brown is a good guy. Admirable, even. Except for one nagging question, the kind you can't answer in quick, tightly-controlled exposures: At a time when America's fate pivots on an epochal divide between the Rs and the Ds, when the partisan divide in his own state is so fraught he's afraid even to call himself what he is, what kind of character does it take to insist that character is all that matters?"
Eight months away from Election Day 2012, recent polls are pointing toward a win for Brown. Real Clear Politics' survey gives him a four-point edge over challenger Elizabeth Warren. A Western New England University/The Republican newspaper poll has the incumbent up by eight points.
When asked about why he's leading at the moment, Brown pointed to his role as a candidate who just works.
"I'm not a rock thrower," he said. "I didn't create the intellectual foundation of Occupy Wall Street," he added, referring to comments Warren made about her role in changing the Wall Street debate.

BEFORE YOU GO