Reports that Apple's newly released iPad can become uncomfortably warm during use have now been confirmed with thermal imaging.
Infrared photos of Apple's new iPad and iPad 2 have been posted on Dutch website Tweakers.net on March 19, as pointed out by Engadget.
Testers equipped both tablets with the mobile device performance-monitoring app GLBenchmark and, after five minutes, recorded the temperatures of each of the devices at their hottest points.
According to the site, the lower right-hand corner of the new iPad was approximately 92.48 degrees Fahrenheit (33.6 degrees Celsius), while the same spot on the iPad 2 was about 82.94 degrees Fahrenheit (28.3 degrees Celsius), a difference of nearly 10 degrees Fahrenheit.
Take a look at the photo (below), showing the new iPad on the left and its predecessor on the right.

LOOK: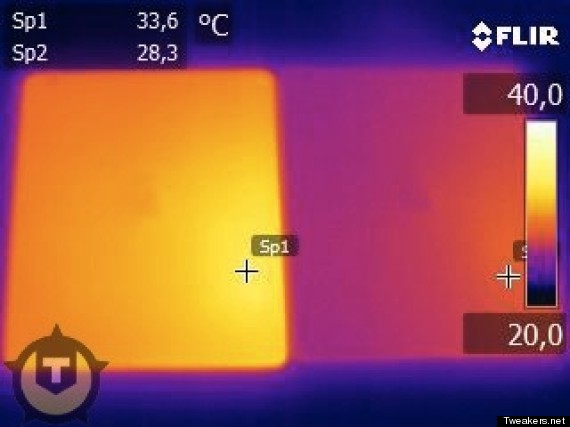 While these measurements and infrared pictures finally prove worried iPad users right that the new iPad is indeed hotter than the iPad 2, MacRumors pointed out that TechCrunch's MG Siegler noticed the difference during his test run of the new iPad. He wrote in his March 14 review:
One other slight downside which I have to assume is related to either the battery or the LTE functionality is that unlike previous iPad models, the new iPad does get noticeably warm in the lower left corner after prolonged use. It's never hot, just warm. But again, I never noticed this on other models.
So far, this has been the biggest complaint about the new device.
Apple announced on March 19 that it had sold sold three million units of the device since its March 16 release in stores, making it the hottest iPad debut yet.
Have you experienced this temperature problem with your new iPad? Let us know below!
Despite a few issues raised by critics, early reviews of the iPad were very strong. Check out the slideshow to see reviewers' favorite things about the device.
PHOTO GALLERY
7 Glowing iPad Reviews
BEFORE YOU GO