Jonas Wood's works, in theory, are fairly straightforward. They are representational paintings of the spaces he inhabits, from his artist studio to his living room. Yet the subject's proximity to familiarity is what makes Wood's paintings so bizarre.
Wood, a Boston transplant living in California, received a BA in psychology before tackling his MFA in painting. The young artist is able to reference art history and channels a bit of the "Unheimliche" to create off-kilter works: he hints at Henri Matisse's knack for color and shape, Pablo Picasso's mischievous cubism and David Hockney's dreamy suburban subject matter. His works radiate with a sincere interest in the stuff art is made of: geometry, perspective, color and the uncanny.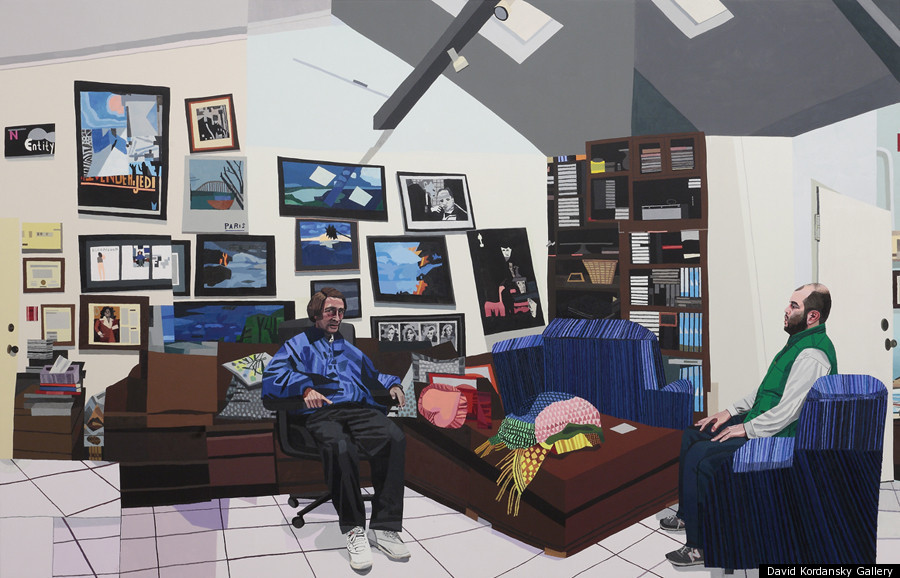 His faces are as flat as his walls, which, by the way, could collapse at any moment. Roberta Smith wrote in the New York Times: "Each painting here presents a highly personal but impersonally observed reality that has been astutely cobbled together but is almost too much to take in." In some images you get the unplaceable feeling that something is not right while others look like dream visions.
Paintings teeter on falling while everyday spaces totter on otherworldly facsimiles. Like when you say a word so many times it starts to become foreign, Wood's paintings make the familiar very strange.
Wood's paintings and drawings will show at David Kordansky Galleryin Los Angeles from March 31 until May 12.
See a slideshow of his work below:
BEFORE YOU GO