Food Informants is a week-in-the-life series profiling fascinating people in the food world. We hope it will give you a first-hand look at the many different corners of the food industry. Know someone who would make a great Food Informant? Tell us why.
After learning to cook at his mother's bed and breakfast, Daniel Klein went on to work and train at many of the world's top restaurants. His culinary education brought him to Spain, France, England, India and New York, where he has worked and trained at top Michelin starred restaurants including The Fat Duck (Heston Blumenthal), St. John (Fergus Henderson), Mugaritz (Andoni Luis Aduriz), Bouchon (Thomas Keller), Applewood (David Shea) and Craft (Tom Collichio). After graduating from NYU, Daniel also pursued a career in film. He has directed, filmed, edited and produced projects on various issues including the development industry in Africa and oil politics. Currently, Daniel Klein produces The Perennial Plate, an online weekly documentary series dedicated to socially responsible and adventurous eating. You can find his weekly videos right here on HuffPost Food.
Read Daniel's diary below to learn how he edits his weekly videos and learn about what happened at the annual Edible conference.
Monday, March 5
Midnight: We post a video every Monday. I try to post it at midnight, though usually I get it up there by 10pm because I want to go to bed. This week's video was about Joseph Fields -- an awesome organic farmer located outside of Charleston. Sometimes we spend several days with a character, while other times its just a couple hours. That was the case with Joseph, and we really tried to relay his personality and the experience of walking around with him as it was quite beautiful. I think it worked out in the editing.
8:30am: Wake up. I have this horrible habit of checking my phone when I wake up. It's really sad that it has come to this. I should be looking out the window at the snow in the trees, but instead my email-addicted mind goes straight to the phone. I had a lot of e-mails but most of them were comments on Vimeo. There is a guy who has been going through every episode and commenting on each, it's very sweet.
9:00am: Twitter. I've been in the habit of scheduling my tweets throughout the day. I also interact on Twitter when I'm procrastinating, but I try to put out a certain amount of content while not spending every waking moment online. This morning had pretty weak content, plus on Mondays I try to push out our latest video pretty heavily. It's hard to know how much people can take on Twitter.
10:00am: House hunting. Mirra (camerawoman/girlfriend) and I were on the road for 6 months, and then travelled pretty heavily for several months after that, so we gave up our apartment and thus we are currently without a place to stay. I'm living at my aunt and uncle's house. Which is great, but it means I'm looking at apartments all the time. The place we looked at was nice, although the kitchen size may be a problem for me. That's the most important factor in our apartment choice: a good-sized kitchen with great light...and with wooden floors. Maybe I'm being too picky?
11:00am: Babysitting. Since we are now home, and very often doing work on our computers, certain family members view that as "free time" which could be better put to use babysitting very small children. That means we get called in to babysit during the day. So I was trying to do work on the computer while dancing with and feeding super cute two-year-old twins.
1:30pm-5pm: Editing. I'm afraid a lot of my week is going to look like this. I try to not start editing a video until Thursday for Monday release. But this video has a lot of content to include and we are flying to Santa Barbara on Friday -- so it has to be done by then. Thankfully it's an enjoyable topic to edit: A video with Sean Brock of Husk and his guru/inspiration Glenn Roberts, of Anson Mills. Last week I watched all the footage and separated out the good sound bytes. That's a huge part of the work -- something that I hope I can hire someone to help me with in the future. Now it's down to editing into something that balances information and entertainment.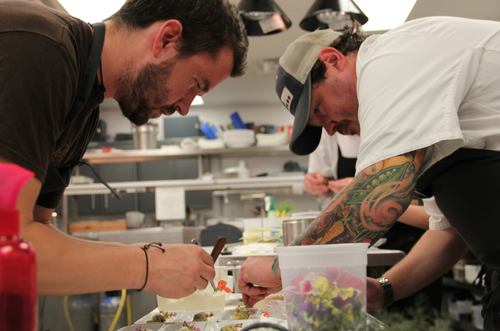 5:30-8:00pm: Switched venues and got back to work. The start of each new session is always ripe with procrastination. I'd say 70% of my editing time is wasted, but when I get in the groove, I can get a lot done. It's as if I need to work through enough wasting time that I get so frustrated with myself that I become hyper-proactive. I had my third cup of coffee. The first two were Americanos, finished with an Espresso. My diet has gone to shit -- so far today I've had a can of tuna, a banana and three cups of coffee. Yikes.
9pm: I made dinner with my cousin. He had some random stuff in his fridge and we pulled it together while drinking Vermouth. In the end we made turkey and Sriracha meatballs with chickpea miso and broccoli. It was really delicious. I had never had chickpea miso -- its very different than soy miso, it almost tastes like corn chowder.
11pm: I have been wanting to see "HOWL" for a long time. I love Ginsberg poems and this movie didn't disappoint, except for the animation. But still, very inspiring.
Tuesday, March 6
9:00am: Coffee, tweeting, croissant.
10:00am: We are dog sitting Dottie, a deaf Dalmatian puppy, starting today. She's 8 weeks old and ridiculously cute. I wish we could keep her, but since we dont have a home (and when we will have one, we will be travelling all the time), it just wouldnt be fair. Dottie is staying at Mirra's parent's home (where Mirra is staying while we look for a place) so we had a meeting of dogs for an hour -- but the little spotted dog's intro to Mirra's mom's dog didn't go as well as planned. They fought, so for the rest of the day, we had to keep them within sight and thus much of the work I had planned didn't happen like it should have.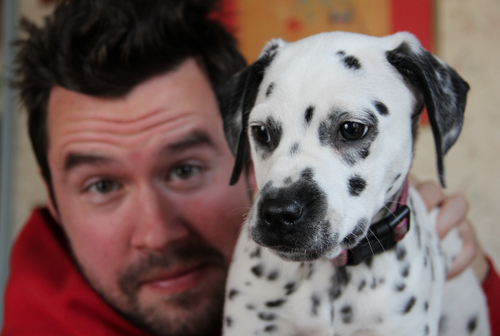 11am-1pm: We are working on a few stories for an online video magazine. Mirra loves this job, I'm less of a fan. It basically entails searching the internet and then cold calling strangers to see if they have a good personality for film. The company we are working with on this particular film shoot wants a lot of details, so there are also many awkward questions that need to be asked. We were basically asking the film subject to pitch themselves to us. In my opinion you can get good stuff out of just about anyone. Some our videos from the road trip were filmed in three days, others an hour. I think one of the best journalism lessons I ever learned was to leave a lot of time for people to answer questions. If you ask something, the subject may reply with a brief answer, if you stay silent, chances are they will continue to talk and speak off the cuff. And in that natural rambling there are some real nuggets. Our videos aren't looking for sound bites as much as personality bites.
1pm-3pm: Two phone meetings with our "funders" to discuss story ideas. It's really hard to work with others when so much of what we have done before was only up to us. But it's a good lesson to learn.
3-5pm: Editing. A lot of our videos about harvest dinners finish with a fast-paced montage. I was tired of that and so for this latest episode I found a nice slow song to accompany the finale. I thought it worked well.
5:30pm-7pm: Recipe testing. Grilled some steak at my brother's place. It was a very warm day for early March in Minnesota, so we cooked outside. I tried cooking in the style that I was reminded of by Magnus Nilsson of Faviken Restaurant in Sweden. It was a video that I watched while procrastinating. He applies intense heat to meat for very short periods of time, then removes and lets it rest. And he repeats this over and over again until the meat is cooked through. It's very labor intensive, but it achieves a "low and slow" texture with lots of caramelization.
7:30pm-11pm: Back to the editing board before bed. I've made most of the episode, it's just pulling all of the cutaways together. This entails going through every clip we shot in order to look for the best "beauty shots." It is a pain in the ass. I usually try to drink wine during this period as it requires little thinking, just time. Thankfully we filmed a lot of stuff with two different cameras and one is used primarily for cutaways, so there is no need to skip around.
Wednesday, March 7
11:30am - 4pm: I didn't get any real work done until 11:30 when I had my first cup of coffee. Before that it was just emails and frustration over figuring out some of the financial future of The Perennial Plate. So far our money has come from Kickstarter campaigns and sponsorship. We are looking into more sponsors as well as some film side projects in that could help us fund our series. Color corrected the video, which entails going through and matching clips. Because different lights have different heat, they come out looking quite different on camera. But thankfully you can change that in post-production. This is a slow process, but it's kind of fun to mess around and see how you can get the best image.
4pm-5:30pm: Very often we become friends with the people in our episodes. Two such friends came over to hang out, eat Girl Scout cookies and play with the puppy.
5:30pm: Finally found an apartment that will work for our filming needs. We were looking for a place that could be an office/home/kitchen studio. Hurrah! Or not. I wrote this earlier in the week, but now it appears that we will not be living here because the area is "too dangerous" for Mirra's liking. We will never find a place to live.
6-7:30pm: Showed Mirra the latest episode and made changes based on her suggestions.
7pm-9pm: Went and had pizza at Lola, an awesome new pizza place in Minneapolis. Mine was topped with La Quercia prosciutto. I also drank boxed red wine -- because it was cheap and quite tasty. Mirra and I don't live together now, so we used this opportunity to further discuss feelings and what's going to happen when our Road Trip videos end.
10-Midnight: I watched "Mad Men" for the first time. Such a well produced show. Like most good TV it's a soap opera that is made to seem high-end (see "Downton Abbey").
Thursday, March 8
10am: It's embarrassing to say that I slept till 10, but I did. Must have been tired. This is also probably why our families think we have time to babysit.
10am-3pm: Editing. I'm realizing in keeping track of my day that my eating schedule is really poor. All I had is a banana and two Americanos before 2pm, same with the day before. But during this period I was at my office (a coffee shop), making small changes to the latest episode, responding to e-mails and looking for quotes. Every week we put a quote at the end of our episodes, this week was no exception. It means perusing ThinkExist.com searching for the themes of the episode. This week's video was about heritage grains, so I was looking up "history," "heirloom," "heritage," "wendell berry." The quote that I came up with was, "If you don't know where you've come from, you don't know where you are" by James Burke.
3pm-4:30 pm: I worked on a recipe for our book proposal -- it's a kale and yogurt salad with anchovies, lemon zest and honey. Sort of Caesar like but much more healthy.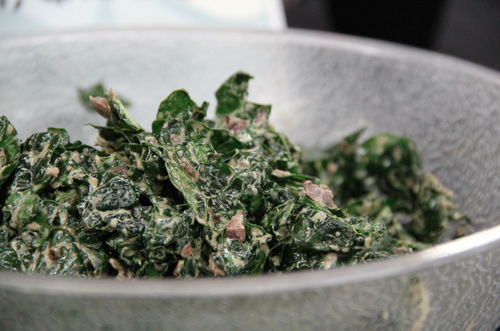 5pm-10:30pm: My cousin is joining the Navy, so we had a celebratory/departing dinner for him. I brought the kale from the recipe testing.
11pm: Packing for our trip to Santa Barbara, as we leave tomorrow morning. Also, I had tried to upload the latest video earlier in the day, but it hadn't worked, so I re-did it and let it run while sleeping. Thankfully, it worked this time. It's easier than it was on the road where we always had to make sure to be at a place with a good internet connection.
Friday, March 9
7am: Our flight was at 9:20. Nothing exciting happens at the airport. I slept on the first flight and did work on our book proposal for the second flight, while listening to the new Punch Brother's album. In one of Mirra's chapters, she had this great sentence about our time with catfish noodlers: "Once you feel the slight chomp on your fingers, pray that it's a catfish and not a snapping turtle, water moccasin, or another catfish noodler (the last thing this group of southern shirtless men who live in the backwoods of Mississippi wanted to be caught doing was holding hands)."
1pm: We arrived in Santa Barbara and the sun was shining. Mirra and I dropped off our bags at the hotel and walked a few miles down the beach into town to eat some tacos. The taco shop served eye-ball tacos. Normally one for adventurous eating, I didn't try them, but instead opted for one beef and one pork. Sadly there were no vegetarian options for Mirra. My tacos were incredible.
5pm: Our lunch and walk lasted until a party we went to at the house of the founders of Edible magazine. The event was an amazing chance to meet many folks whom I really admire. Barry Estabrook was my most starstruck moment. He's the author of "Tomatoland," an amazing book about the tomato industry in Florida.
8pm: I dragged Mirra out to try a local restaurant and to plan our presentations which would take place the following two days.
Saturday, March 10
8:30am-5pm: The whole day was spent at the Edible conference. I've been to quite a few conferences and this one was really wonderful. Below are some of my favorite speakers and what they said.
Nikki Henderson: She was the keynote speaker and rightfully so. Her talk was engaging and inspiring. She is the Executive Director at People's Grocery, an organization aiming to improve the health of Oakland through local food. What struck me the most was her discussion of the difference between "breakdown" and "breakthrough" and the importance of being there for people when they are in breakdown. Breakdown is like crisis mode and a lot of the constituency that Nikki works with are usually in crisis. But she also pointed out that we need to be with all people in "breakdown" and that includes the Tea Party. That's the great thing about food: it crosses all boundaries and you can support those who are different from you.
Barry Estabrook: I've wanted to meet Barry for a while and he didn't disappoint. He is the author of the shocking and inspiring (to action) book "Tomatoland." He was just a moderator at the conference but we teamed up to confront Chris Arnold of Chipotle about the company's failure to work with the Coalition of Immokalee Workers (CIW) to raise the amount tomato pickers make by a penny per pound. Chipotle claims to be complying with the new payment but are unwilling to work with CIW, no one really knows why.
Helene York: She sources food for the Bon Appetit Management Company (they supply food to Target, Cisco and lots of universities). The company has been making huge strides in improving conditions for animals and in purchasing sustainably caught seafood. On top of that, Helen was hilarious, insightful and a really kind person.
Tracie McMillan and Jonathan Bloom: After hearing both these authors speak there was a beeline to purchase their books. Both authors bring a new perspective to their fields. Tracie writes about her experience working as a garlic laborer, stocking shelves at Walmart and expediting in the kitchen of an Applebee's. Jonathan explores the uncomfortable and astounding world of food waste.
Will Harris: I'm pretty sure everyone at the conference came away with a new hero in Will. He runs a farm in Southern Georgia that is vertically integrated with its own processing plant to bring the cows, sheep, chickens (and vegetables) to Georgia eaters. But his wisdom, friendliness and slow southern accent were the real kickers. Check out White Oak Pastures and wish that you lived close enough to visit the farm and try his products.
During that period we also gave a 15 minute presentation and shared our film God's Country.
7pm-Midnight: All of the above speakers, along with half the "Edible" editors in the country and some new friends that I had only known from Twitter and/or their websites, convened to eat and drink the best of what Santa Barbara had to offer. We all ate and drank too much.
Sunday, March 11
10am-2pm: This was the "film day" where our friend Robert Romano presented parts of his films "La Cosecha" and "The Dark Side of Chocolate." We followed him after lunch. Mirra had been nervous for days. She was amazing of course and the presentation overall went well. We played 3 videos, answered questions and told the audience our "food story" -- basically how we got to where we are and our food opinions.
3:30-5pm : The conference ended and we all stood around for a while complimenting each other. I think people go to conferences mostly to socialize and network. This had been happening all weekend, and the end of the conference was the last time to get it done. I know we'll be reconnecting with many of the folks we met at Edible Institute, and hopefully working with some of them too.
5pm: Mirra and I finally got back to the beach. We walked into town, ate dinner, had a couple of Negronis and headed back to the hotel. We had an early flight out the next morning.
See more Food Informants below:
PHOTO GALLERY
Food Informants