Goldman Sachs is looking even worse than it did during the financial crisis.
The investment bank's reputation plunged to levels below the lowest level it reached during the financial crisis, according to YouGov's BrandIndex. The drop comes in the wake of former Goldman worker Greg Smith's op-ed in The New York Times in which he criticized the firm's "toxic" environment and then resigned.
Still, Goldman's reputation has yet to hit the lows it reached in the spring of 2010, when the Securities and Exchange Commission charged the bank with $1 billion fraud, alleging that Goldman workers didn't disclose that the firm was betting against subprime mortgages being sold to clients as worthy investments.
YouGov compiles the index by asking survey participants, "would you be proud or embarrassed to work at this brand?" And apparently Goldman is one of the most embarrassing big banks to work for. The firm's rivals have a combined score that is 32 points better than Goldman's.
If it wasn't for Smith's op-ed, Goldman might have been on its way to getting back in America's good graces (albeit at an extremely slow pace). The firm was one of YouGov's most improved brands, according to a survey the group released earlier this year. But it's not like Goldman was exactly in good company; other most improved brands included British Petroleum, the oil giant notorious for the 2010 Deepwater Horizon spill in the Gulf of Mexico.
It may take a while for Goldman to recover from its recent reputational blow with voices from all over the finance world agreeing with Smith in the aftermath of his op-ed. Former Federal Reserve Chairman Paul Volcker and ex-AIG CEO Hank Greenberg said last week that Goldman's culture changed to the detriment of its clients when it went public in 1999.
People more closely connected to Goldman have expressed similar sentiments. An heir to one of the founders of the firm told Business Insider last week that Smith's op-ed was "spot on," and an ex-Goldman partner also wrote on her blog that the firm's culture shifted in the years since she left.
Here is a chart illustrating Goldman's brand index: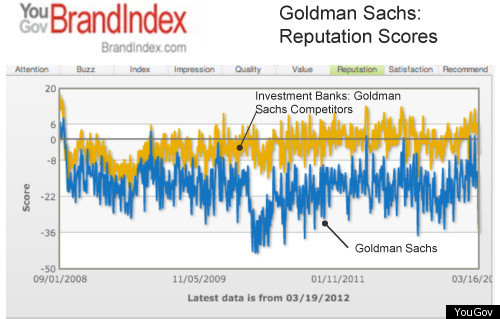 BEFORE YOU GO