The artist Rotimi Fani-Kayode created striking photographs in color and black-and-white exploring race and sexuality. Tribal and baroque, the complex images recall a life spent between worlds. A new exhibition of Fani-Kayode's work, titled "Nothing to Lose" will put his photographs back in the spotlight.
When he was 11, Oluwarotimi Adebiyi Wahab Fani-Kayode left Nigeria and fled to the U.K. with his family in the late 1960s, taking up residence as political refugees after a military coup. For the remainder of his life, Fani-Kayode (who became "Rotimi") has balanced his roots with the residue of exile, not only as a Nigerian in London but also as a gay man and an artist in a traditional family. His work has constantly grappled with feelings of belonging and the rituals that make one feel at home. He came to the U.S. in 1976, where he studied economics (for his parents) and fine art (for himself), then returned to England in the early 1980s, where he stayed.
Later on in his work, he began referencing Robert Mapplethorpe's oeuvre, and yet the British-Nigerian artist's works go beyond homoeroticism in order to take a wider view of history, placing him nearer to Derek Jarman's work at the time. In his art, Fani-Kayode pushed the boundaries of performance, ritual, race and sexuality. In his life he did the same. With Mark Sealy, he co-founded Autograph ABP (Association of Black Photographers), a charity organization that addresses human rights issues and works toward expanding cultural awareness.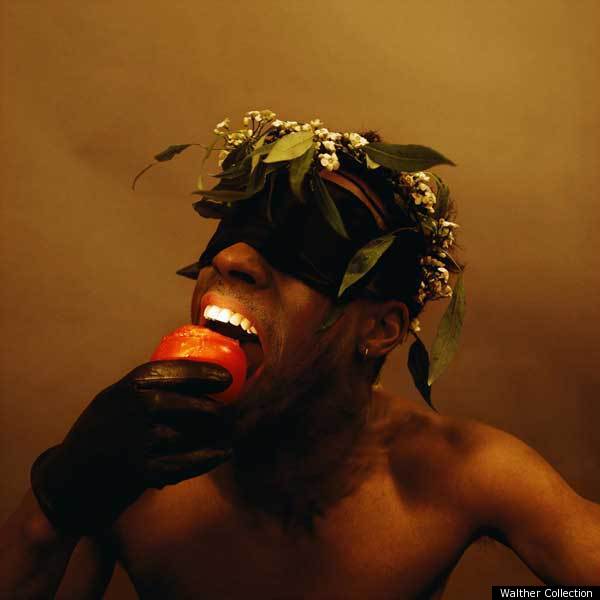 In the artist's words: "On three counts I am an outsider: in matters of sexuality, in terms of geographical and cultural dislocation; and in the sense of not having become the sort of respectably married professional my parents might have hoped for. Such a position gives me the feeling of having very little to lose."
Most of Fani-Kayode's works seem to capture a climax of some kind: whether violent, spiritual or sexual. In Fani-Kayode's photographed rituals, flesh glistens with the same sweat as the fruit, and fruit oozes juice that resembles blood. Yoruba masculinity mingles with homoeroticism in these imaginative worlds, referencing Nigerian customs as well as the onset of the AIDS crisis. Fani-Kayode's own active career as an artist lasted only seven years before he passed away in 1989 of AIDS-related illness.
The Walther Collection will present Fani-Kayode's first solo show "Nothing to Lose" from March 23 to July 28.
See a preview of the sharp-edged collection below, and let us know your thoughts in the comments section.
Who has taken up Fani-Kayode's torch? Is it Duane Cramer?