Part of what's exciting about decorating a new home is discovering how the most unexpected furnishings can really make the home stand out. That element of surprise is precisely what San Francisco interior designer Lauren Geremia brought to newlyweds Aditya Agarwal and Ruchi Sanghvi's modern but rustic Noe Valley home, which is featured over on California Home + Design's site.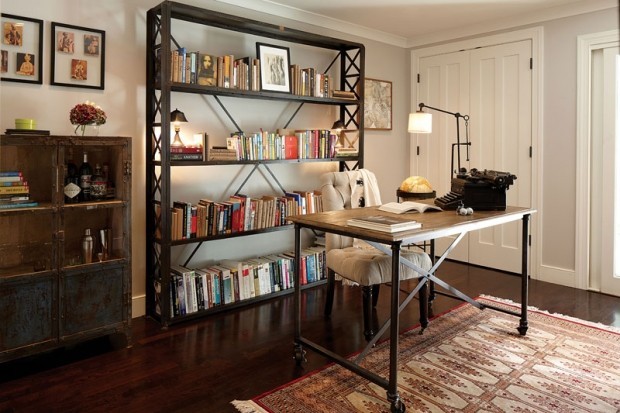 Home office space photo by Phillip Harvey, courtesy of California Home + Design
Aditya and Ruchi love to entertain, so they wanted their home to feel like a unique gathering spot for friends and family. With that in mind, Lauren was a natural choice since she is known for designing some of the Bay Area's most popular restaurants. The first thing she did was turn to some local craftsmen and shops for a handful of furnishings that can stand up to wear and tear. This included a modern sectional by Knoll upholstered in heavy linen and a vintage factory cart with a durable glossy finish that she repurposed into a coffee table in the living room.
But, what's surprising is Lauren's choice for accessories. From a mirror with a frame made up of porcupine quills to a 'sexy' mirrored dresser from Esquire Home that was not so well received by the homeowners -- "I thought the dressers were too S&M, too risquᅢᄅ," says Ruchi -- the accent pieces are definitely daring in style.
Nonetheless, the resulting modern rustic look in the home really appeals to us, and we especially enjoy the refined home office space, which features an elegant ᅢᄅtagᅢᄄre and a working antique typewriter. And, if you're wondering what happened with the 'risquᅢᄅ' dressers, they're still there and proudly displayed in the bedroom.
BEFORE YOU GO