UPDATE: Cast your vote in our final round of HuffPost Celebrity's Most Shocking Splits bracket!
PREVIOUSLY: Although Courteney Cox and David Arquette split back in 2010, HuffPost Celebrity readers are still feeling the sympathy pains. In our Most Shocking Splits tournament, 75 percent of voters were more taken aback by Cox and Arquette's parting of ways than Eva Longoria and Tony Parker's sudden split after just four years -- erasing vows they sealed with tattoos.
Though our readers seem to be pulling for Cox and Arquette, one couple, whom we considered the definition of a shocking split, were booted from the tournament in the latest round. Although it was a close race, Brad Pitt and Jennifer Aniston seem to be so seven years ago with their 2005 divorce.
It's down to the final four couples. Make your picks to see which formerly betrothed pair will go down as having endured the most shocking split.
Check back Monday, March 26, to see which couples made it to the final round.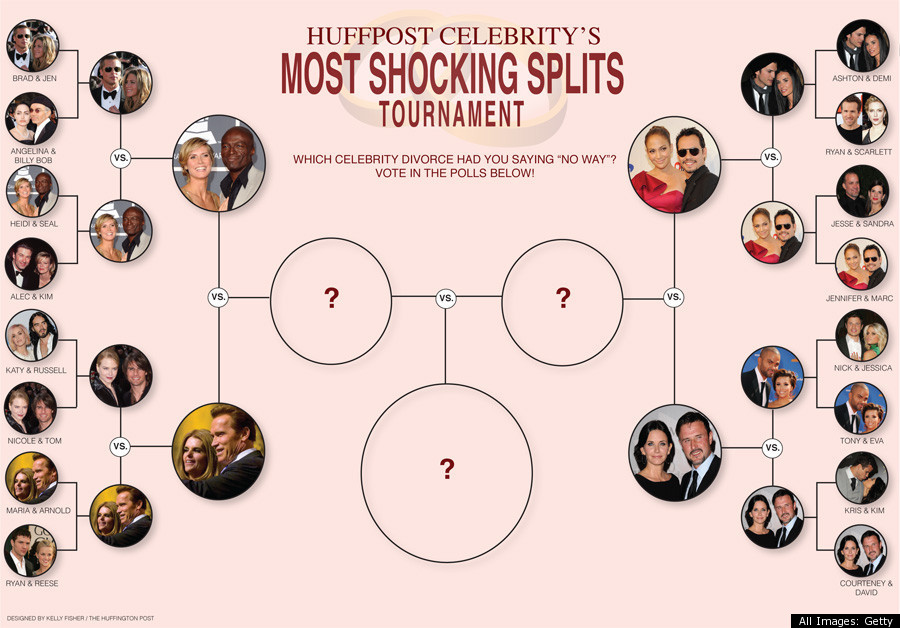 BEFORE YOU GO
PHOTO GALLERY
Celebrity Breakups