This Craft Of The Day will have everyone wanting to know where you got your shoes. Although it requires a bit of sewing, you can use a pretty scarf to update an old pair of ballet flats for a bright and breezy look that's perfect for spring. (Blogger Stacie Grissom modeled this DIY after a much-more-expensive pair from Anthropologie.) Keep reading for the how-to.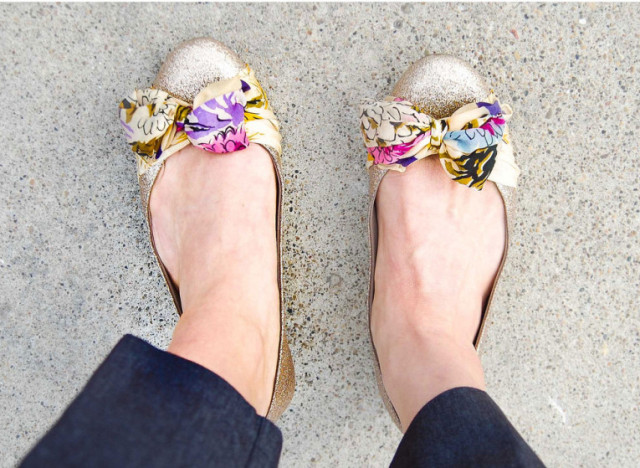 Photo by Stacie Grissom of Stars for Streetlights

What You'll Need:
Pair of plain ballet flats
A matching scarf to use as a bow
Thread and needle
Scissors
Thimble
How To Make It:
1. Cut the scarf into four strips, two for each shoe. Make sure they are wide enough to fold vertically in half.
2. Fold the strips in half and stitch up the side, creating a tube out of the fabric. Flip the tube inside out to hide the seam.
3. Use your needle and thread to hand stitch the scarf strips to the toes of your flats, although a sewing machine will also work if you have one. Begin by sewing the edge of one strip near the base of the shoe on one side. Sew the other strip in the same place on the opposite side.
4. Tie the strips together into a bow. Trim them at the end if they are too long.
For a full tutorial, visit Stars for Streetlights. And, be sure to check out the other great crafts in our Craft Of The Day slideshow below.
PHOTO GALLERY
Craft Of The Day