Jorinde Voigt creates the world that we cannot see. Besides complicated algorithms and natural phenomena, the young artist's inspirations are worn loosely, creating a figurative assortment that emphasizes ambiguity and free association. David Nolan Gallery in New York is presenting Voigt's first showing in the U.S., featuring drawings as well as two sculptural installations. The Goethe Institute called Voigt "one of German art's rising stars" for a good reason. She was recently nominated for the 2012 Drawing Prize of the Daniel & Florence Guerlain Contemporary Art Foundation, along with our favorite Canuck, Marcel Dzama.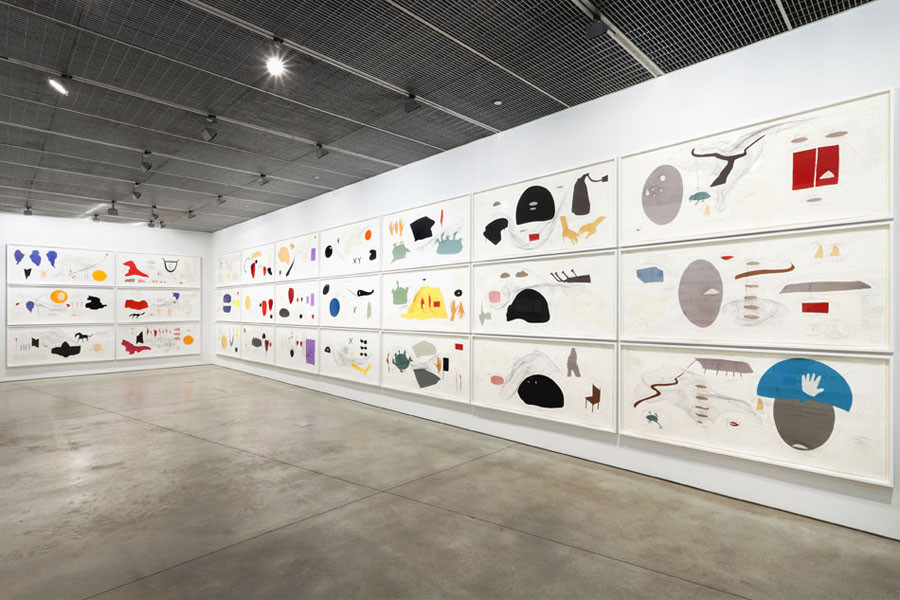 Jorinde Voigt, Piece for Words and Views I-XXXVI, 2012, Installation view
Courtesy of David Nolan Gallery, New York
Voigt's influences range from music, geography and weather patterns; the presence of small scribbles gives the impression of mild-mannered scientist on the verge of a subtle breakthrough. Voigt's style is never brash or overtly direct, leaving us clamoring for a photographic memory, though to say the show is not memorable would be a definite understatement. We're left with a greater appreciation for these ephemeral, fleeting moments. In an interview with Rory MacLean, Voigt simply says, "We are alive. We are not the person that we were yesterday."
The show feels natural, yet each color and line feels calculated. (She's German, after all.) Through her pleasantly gestural work, Voigt reignites our need for balance, between the spontaneous and the planned, the blunt and the understated. While our instincts may beg for a more polarizing experience, Voigt's work still succeeds in making you take a second look at your world. What more could you want, really?
"Jorinde Voigt" will be showing at David Nolan Gallery until April 28th, 2012. View a slideshow of the work below.
PHOTO GALLERY
Jorinde Voight
CORRECTION: In an earlier version of this article, we misspelled Voigt's last name. We apologize for the error.
BEFORE YOU GO