Bertien van Manen's exhibition "Let's sit down before we go" features 60 photos taken from 1991 to 2009, when the photographer travelled throughout Russia, Moldavia, Kazakhstan, Uzbekistan, Ukraine, Tatarstan and Georgia with a small 35 mm camera. Her snapshots are saturated with light, making strangers' faces look like old friends.
The Dutch photographer began her photography career in fashion, but switched over to fine art after being inspired by the work of Robert Frank. She began travelling throughout the former Soviet Union with her toylike camera, capturing simple scenes of everyday people.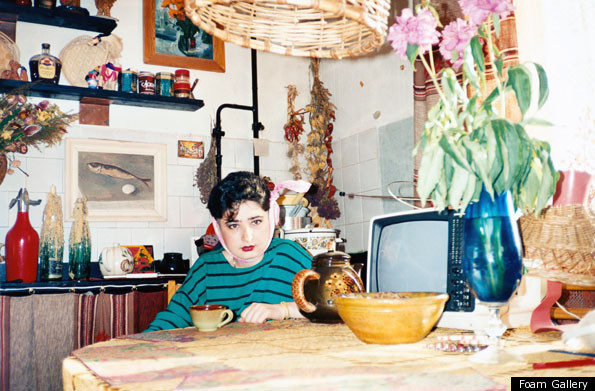 The photographs address a range of Slavic lives, from icy Siberia to modern Moscow. We find dangling pantyhose and worn-out floral curtains hanging limply, a life of clutter captured in a single image. In the artist's words, "It was exciting to walk through the homes with a portrait, looking for the perfect place to put it. I tried not to think and just follow my intuition."
Like Nan Goldin, van Manen snaps beautifully imperfect photos that look like they belong more in a family album then in a gallery. "Let's sit down before we go" turns strangers into friends and erases the barriers between photographer and subject. There is a sense of mutual honesty and respect in the photographs that makes the world feel a whole lot smaller.
"Let's sit down before we go" runs until June 24 at Foam Gallery in Amsterdam.
Peek into the homes of some familiar strangers below:
PHOTO GALLERY
Bertien van Manen
BEFORE YOU GO