Happy Birthday to Juan Gris! Known affectionately as the "third musketeer of cubism," Gris had the reputation of being a pupil to Picasso's master, but as Gertrude Stein wrote in "The Autobiography of Alice B. Toklas": "Juan Gris was the only person whom Picasso wished away." In contrast with Braque and Picasso, Gris injected his version of cubism with bright colors, almost straddling the line between lighthearted impressionism and the mechanical feel of his counterparts.
Gris became friends with Matisse at the same time when he moved to Paris to begin his Cubist adventures, which would come to further complicate where critics place him in the general scheme of art history. For Gris, aligning with specific movements or philosophies would be a death wish, a request to halt all natural creativity. The artist once declared in the "L'Esprit Nouveau" statement, "Starting from a general type, I want to make something particular and individual." By this simple, yet direct proclamation, Gris' stringent dedication to not only the creative process, but his creative process was cemented.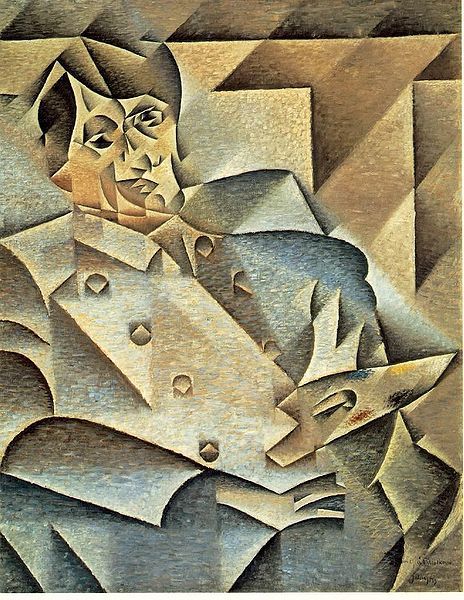 Portrait of Picasso, 1912, oil on canvas, Wikimedia Commons
John Russell wrote of beholding a Gris work in 1983, "It also stands for a depth and strength of color that on the whole were excluded from Cubism. Where Picasso and Braque in the heroic years worked by taking color out, Gris worked by putting it in." Walking his own path became his defining characteristic, which also subsequently lead to Gris being underappreciated in the realm of Cubism. Today, however, the artist is honored by Google, so when you search for something, think of Juan.
Happy Birthday to a maverick among mavericks, a principal pillar of the Cubist movement despite his reservations with such a distinction. Though he passed away at the all-too-young age of 40, his brief stint on this earth made a lasting impact. It just goes to show that even an alternative movement such as Cubism needed some rebels. Here's to you, Juan Gris!
BEFORE YOU GO