The world's gaze may be set on Miami this weekend thanks to one of the most attended electronic music festivals in DJ-land, Ultra. If that's your sort of thing, check out our Miami Music Week guide here.
For the rest of Miami, we've compiled a handful of events that don't involve glow sticks, Deadmaus, or Hello Kitty flare.
There's a fashion week on the Beach, a crab fest down Old Culter Road, and concerts that involve actual drums as opposed to drum machines.
For ongoing Around Town coverage -- including which streets to avoid for Ultra -- check our Live Blog.
Pulse
Friday, 9:30 p.m.
New World Center
Tickets: $26
Like electronica but not EDM a la the Winter Music Conference events? Head to Pulse, the classy nightclub pop-up where beats are mashed with a live symphony. No furry boots or yarn dreads in sight.
Come Fly Away
Friday through Sunday, 2, 8, and 7:30 p.m.
Arsht Center's Ziff Ballet Opera House
Tickets: $35 to $92
With choreography by Tony Award winner Twlya Tharp, four couples dance their way into love to the sound of Frank Sinatra's voice.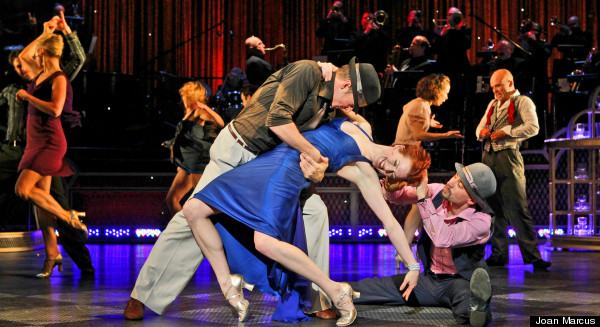 Miami Beach International Fashion Week
Friday and Saturday
Miami Beach Convention Center
Tickets: Vary
The bass-ridden whirring of Miami Music Week threatens to drown out the buzz over in the convention center, Miami Beach International Fashion Week. Catch runway showcases like the Latin Fashion Weeks Council Designer Showcase and an "up close and personal" with Dionne Warwick.
Sony Ericsson Open
Friday Through April 1
Crandon Park Tennis Center
Tickets: $7 to $465
Novak Djokovic will defend his title as last year's Ericsson Open champion against some of the biggest names in Tennis. In the women's division, Victoria Azarenka of Belarus will slam rackets in the hopes of winning again.
Deering Seafood Festival
Sunday, 10 a.m.
Deering Estate
Tickets: $15 or $25
At the 8th annual Deering Seafood Festival, the historic site will be filled from bay to house with heaps of crab legs, shrimp, and other crustaceans.
Blondie
Sunday, 8 p.m.
Hard Rock
Tickets: $45 to $65
Just off the "Endangered Species" tour, Debbie Harry AKA Blondie plays Hard Rock Sunday. Keep an ear out for Blondie standards "Heart of Glass," "Call Me," and the syrupy "Tide Is High" as well as new cuts off Panic Girls.
Black Lips
Sunday, 10 p.m
Grand Central
Tickets: $15
Purge those BPM out of your ear canals with a true blooded rock show at Grand Central. Miami band Lil Daggers opens for headliner, Black Lips, a "flower punk" band from Atlanta.