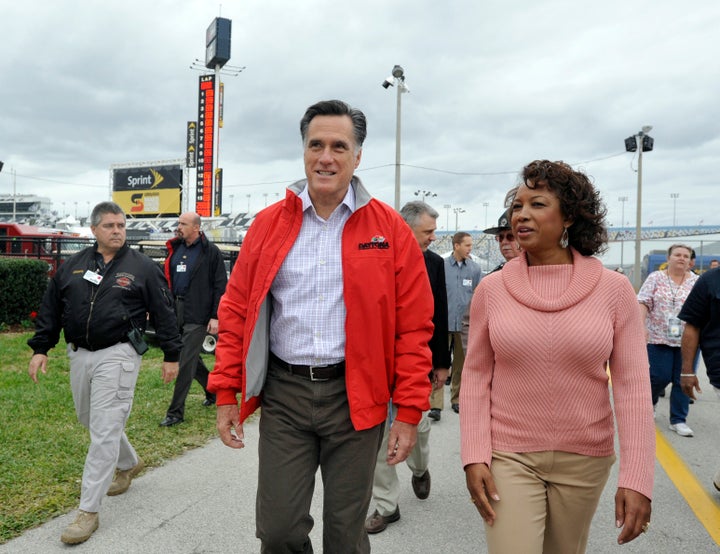 WASHINGTON - The nation's lieutenant governors said that last week's conference was important for a group of officials whose duties vary widely from state to state, but share the common goal of being first in line of succession to a governorship.
The National Lieutenant Governors Association convened their annual winter meeting -- always in Washington -- for three days of policy lectures, association business, socializing and a bit of international diplomacy. The group's membership draws on the next-in-line in every state, mostly lieutenant governors, but in some cases state Senate presidents or secretaries of state. The conference is one of two the group hosts annually.
"As constitutional officers, we are by far a league of our own, in terms of having diverse portfolios," said Nevada Lt. Gov. Brian Krolicki (R). "We do have much in common, though. Each state has someone to be the person who becomes governor. We have that bond."
Outside of waiting for the possibility of succeeding, the daily job varies. Some lieutenant governors like Texas' David Dewhurst (R) and Alabama's Kay Ivey (R) wield power over the Senate, a largely ceremonial role in some states. Krolicki's main duties center along economic development and tourism, along with trying to bring the Olympics to Lake Tahoe in 2020. Illinois' Sheila Simon (D) oversees rivers, rural affairs, military bases and education, while Massachusetts' Tim Murray (D) chairs 12 groups that address topics like homelessness, seaports, local government, sexual assault and Latino-Americans. Some lieutenant governors -- including New Jersey's Kim Guadagno (R) and Hawaii's Brian Schatz (D) -- double as secretary of state. Indiana's Becky Skillman (R) has the most duties, including overseeing the state's agriculture, rural affairs, tourism, housing, community development and counter-terrorism efforts.
Simon said the main goal of the conference was to meet other lieutenant governors to discuss common state issues. She said she was interested in speaking with her counterparts to discuss pension reform issues. She said the succession bond brings the group together and allows for the exchange of ideas.
The NLGA serves as the trade group for lieutenant governors, providing the forums and succession planning advice, along with policy research as needed for members. The group's website serves as a virtual cheerleader for state number twos, including a wide array of press clippings for lieutenant governors.
During the Washington conference, the group hosted panel discussions on a range of issues, from pensions to health care to the Supreme Court, along with private sessions for lieutenant governors and companies funding the conference. The conference had the feel of grade school, with lieutenant governors greeting old friends, attending classes, taking a class picture and going on field trips to the White House to meet Vice President Joe Biden and to receptions at the Romanian and Brazilian Embassies.
The conference book said 28 members were in attendance, with several sending regrets, including Alaska's Mead Treadwell (R), who said he was greeting "international Arctic dignitaries," and North Dakota's Drew Wrigley (R), who is traveling internationally.
The conference also featured the adoption of five policy resolutions, including those to support continued economic development talks with Mexico, supporting a properly manned and equipped Coast Guard and supporting the space program. The Coast Guard and space resolutions were both backed by Florida Lt. Gov. Jennifer Carroll (R), who took an active role in policy discussions. The NLGA also convened in closed session to discuss NLGA's financial strategy.
Not every lieutenant governor was as enthusiastic as Carroll over the resolutions.
"These resolutions they pass are bull****," Montana Lt. Gov. John Bohlinger (R) told HuffPost, saying that networking was the most important part of the conference to him. "We are not going to tell Congress to do anything. They don't pay attention. It might make people feel important, but it's not that important, frankly."
BEFORE YOU GO