SAN FRANCISCO -- When the Red Vic, Haight Street's beloved independent movie house, closed its doors after 31 years last July, community members were devastated.
But the theater's loyal following may soon have a reason to celebrate again. At a meeting last week, the Red Vic's owners and co-founders revealed plans to dramatically revamp the building.
"We are determined to carry on the spirit and values of the Red Vic Movie House in that it be a place where members of the community can come together," Jack Rix, who runs the space with his wife, Betsy, told The Huffington Post. "Everyone has appreciated this."
The Red Vic's "sequel," as Rix refers to it, will include three components. The former theater auditorium will be converted into both a marketplace and an event space/screening room for local artists and filmmakers, and the adjacent Alembic restaurant will expand into the former lobby. (Story continues below.)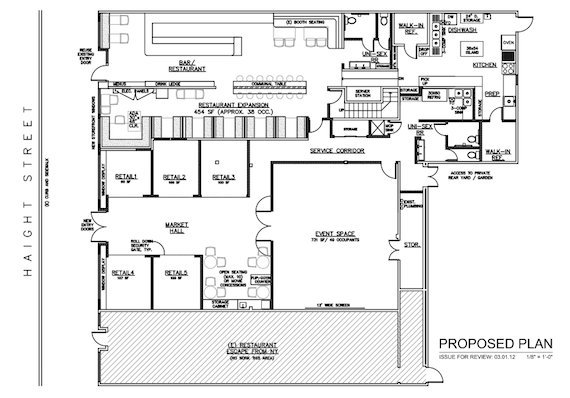 Rix explained that he hopes the marketplace, which will consist of five food-related booths, will serve as an incubator for small businesses and entrepreneurs that "aren't ready to have their own brick-and-mortar location yet."
Two local tenants have already been confirmed for the marketplace: PicnicFare, an eco-friendly bakery and coffee shop, and Buyer's Best Friend, a wholesale food brokerage.
"We think that having small, non-chain entrepreneurial efforts, featuring local, sustainable food-related small businesses will be of great interest in the neighborhood," he said. "They can use the marketplace as a launching pad."
Similarly, the adjacent event space and screening will provide an arena for aspiring filmmakers to showcase their work. But Rix envisions a wide variety of uses for the area. "In addition to movies, we hope to have many other types of events including acoustic music, author events, community meetings, classes, comedy, improv, children's programs and non-profit meetings and events," he said.
Lastly, the widely-popular neighboring eatery Alembic will have the opportunity to give its dining room a much-needed expansion. The tiny restaurant, whose unique cocktail menu earned it a spot on Food and Wine magazine's list of the top 50 bars in America, struggles with long wait times during peak hours.
Though it will no longer be able to draw huge crowds for cult events like the legendary 4/20 "Big Lebowski" screening, Rix believes he and his wife will be able to keep the spirit of the Red Vic alive with their new plans.
"A group of us who started the Red Vic Movie House back in 1980 came out of a background in community organizing," he said. "In addition to a love of film, perhaps the single most important organizing principle for the Red Vic was to bring people in the community together."
"We will continue to serve this principle," he added. "The new space will reflect the nature of this amazing neighborhood."
Take a look at images of the Red Vic through the years below (photographs courtesy of Jack Rix):