What a difference 15 years makes.
We're stoked that Kate Winslet, one of our fave actresses who rose to fame playing Rose in 1997's box-office-busting "Titanic," is making the press rounds for the re-release of the movie in 3-D.
And since we're HUGE fans of Kate's style, we couldn't wait to see what she'd wear at the "Titanic 3D" premiere on Tuesday night in London. Now we have our answer (and photos!): Winslet stunned in a black silk Jenny Packham gown with Swarovski crystal cap sleeves, accessorized with a retro hairdo and vintage jewelry.
So chic! But for fun, we wanted to see what Kate wore when the epic film was first released, back in 1997.
It turns out? She was totally '90s-tastic. For the 1998 Golden Globes, where she was nominated for Best Actress (and also nabbed the same nomination at that year's Oscars), Kate showed up with Leo on her side in a goth-tinged black lace gown. That dark lipstick! The choker!
Winslet, who co-founded the British Anti-Cosmetic Surgery League, has certainly developed personally as well as sartorially since the first "Titanic" film, as she told our friends at Stylelist:
It's really weird because it's 15 years ago and I don't know, I feel very disconnected now from actually what was going on in my life at the time and how I felt. A lot of it, it does really feel like a distant memory, so it's going to be quite strange to have that sort of thrusted into people's face all over again. I've no idea what it'll be like, the experience, but it's exciting to think that a whole new generation of young men and women who, perhaps, haven't seen it, who may have been conceived after the first date night of a couple going to see "Titanic." I mean, God knows. It does mean that a whole new generation of people will be seeing the film and that's fantastic. That's wonderful. And also, I'm fascinated to see it in 3-D myself, I still haven't seen any of it.
Check out Kate's then & now photos below, from tonight (left) and at the 1998 Globes (right)!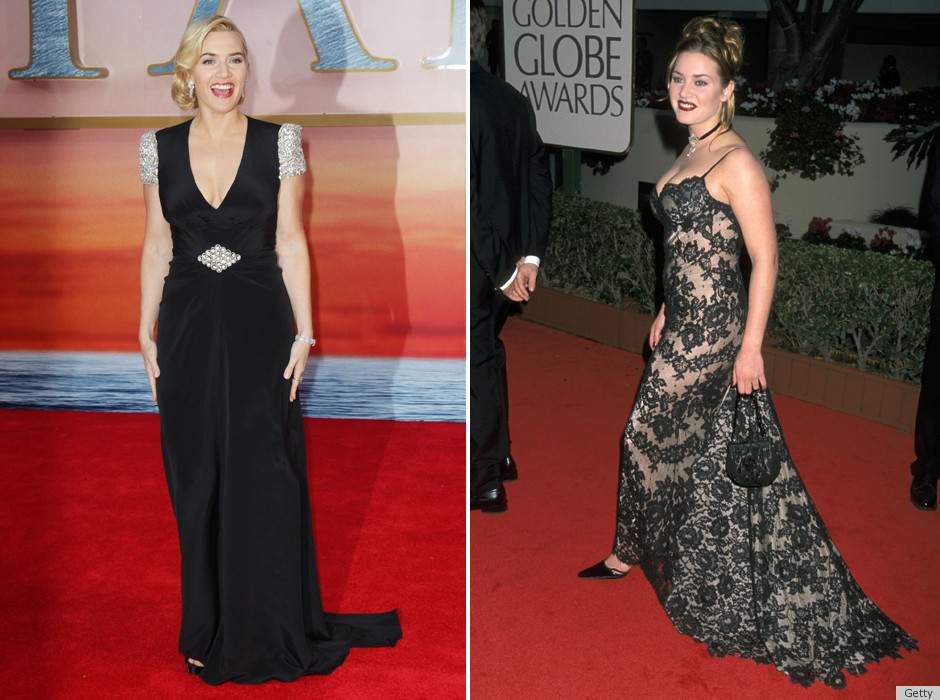 BEFORE YOU GO
See Kate's style evolution!
PHOTO GALLERY
Kate Winslet Style Evo (CLONED For HuffPost Style)