The dramatic rate at which Colorado youth have been slipping into poverty seems to have finally come to a standstill this year, according to data released Tuesday by the Colorado Children's Campaign.
The campaign's executive director Chris Watney however is looking at the data with cautious optimism.
"It's too soon to tell what this means long term," Watney told the Daily Camera. "We still have to remember we've doubled the number of kids living in poverty" over the past decade.
According to the 2010 American Community Survey, approximately 17 percent of all Colorado kids were living in poverty, compared to 22 percent nationally.
"Colorado's future success relies on the extent to which we ensure that all Colorado children, in every county of the state, have access to the opportunities they need to succeed," said Gov. John Hickenlooper in a press release. "Even in tough times, we need to make certain that Colorado is a great state to be a kid."
GRAPH: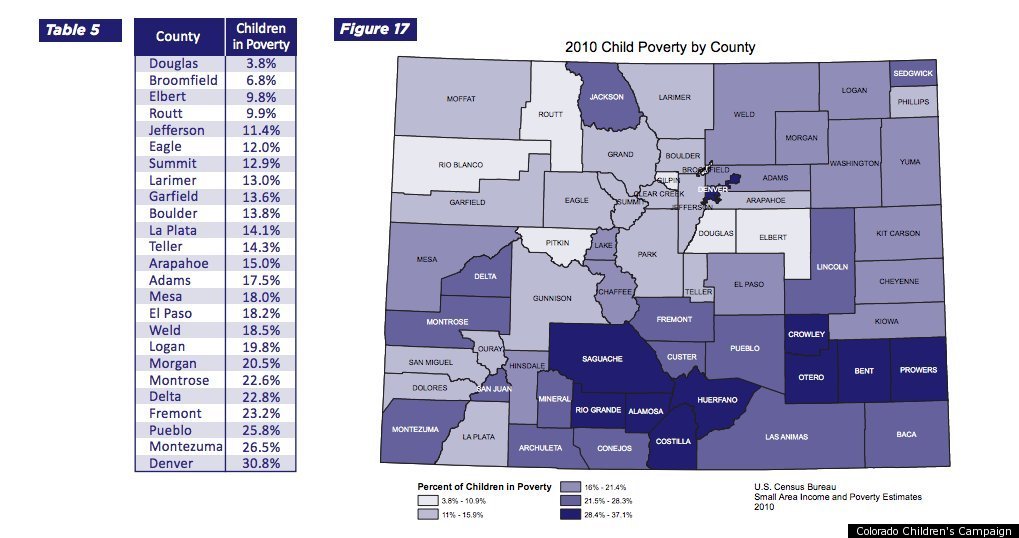 From 2012 Kids Count in Colorado report.
The report details some of the living conditions of children living in each of the state's 25 largest counties. In the report, Denver scores at the very bottom with nearly 31 percent of children living in poverty while Douglas and Broomfield Counties are at the top with under seven percent living in poverty.
According to the report, Colorado has decreased the amount of uninsured children from 14 to 10 percent between 2008 and 2010. Yet black and Hispanic children are still significantly more likely to be living in poverty. Between 2005 and 2010, the number of Latino children living in poverty in the state increased by 37 percent while the the increase for African-American children was 50 percent.
Click over to 2012 Kids Count in Colorado to read the full report.
BEFORE YOU GO