It's hard not to adore Alber Elbaz, the most adorably self-deprecating fashion designer of all time (we dare you to name someone more modest).
The Lanvin creative director, who is celebrating his ten-year anniversary at the French house, shows off his typically humble manner in the second issue of Style.com/Print, the new print magazine from the style savants over at Style.com. The magazine follows the designer as he preps, presents and celebrates his Fall 2012 collection in Paris and snags more than a few of those worried little witticisms for which Alber is known.
But mixed in with the crippling self-doubt we've grown accustomed to -- "I do not believe in myself. I had this anxiety attack last night before the show, after the rehearsal," frets Alber -- comes the best line ever:
"I always say I cannot work with bitches; they block my creativity."
There it is -- the real reason we love Alber! Because as overwrought or unhappy as Elbaz makes himself out to be, he's one of the most drama-free designers around. For Elbaz, it's not insider status, fame or fortune that matters, but fashion and fashion alone. As he once told the Guardian, "If you change a woman's look, you change her persona. I am here to make her look and feel good about herself."
Alber, you always make us feel good.
Check out Style.com/Print's latest cover below and get your own copy of the oversized glossy on newsstands April 2 or online at Style.com/Magazine.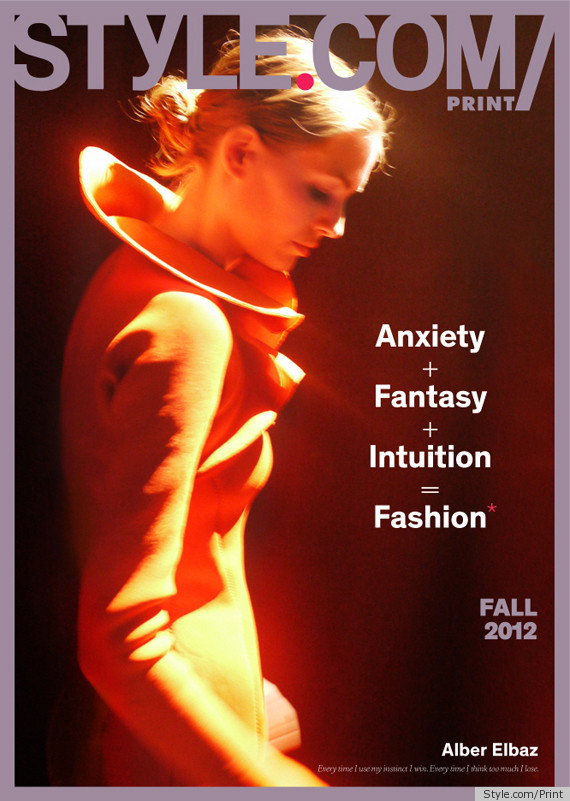 BEFORE YOU GO