For SFMOMA's latest exhibition, the institution is going down south, centering on Mexico's captivating essence in the realm of photography. The vast survey covers expatriates such as Edward Weston and Paul Strand who were inspired by the dusty desert locale as well as Lourdes Grobet and Pablo Ortiz Monasterio who called Mexico home.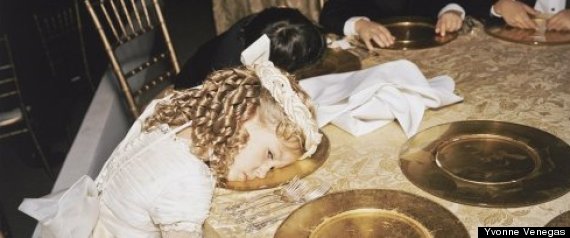 Yvonne Venegas, "Nirvana from the series Maria Elvia De Hank", 2006; inkjet print; 19 1/2 in. x 24 in. (49.53 cm x 60.96 cm); Collection of the San Francisco Museum of Modern Art; (c) Yvonne Venegas
The popularity of the medium began to take hold following the Mexican Revolution and ever since, Mexico has had a rich tradition of photography unafraid of addressing social issues. From the outburst of the press mid-way through the century to the growing tension surrounding the US/Mexico border, the culture of photography has thrived thanks to the diverse range of inspiration found on every street corner.
Upon venturing to Mexico with Tina Modotti, Edward Weston began to shift his focus, shying away from monumental moments and poses and moving towards finding the significance of everyday scenes. Inspired by the streets of Mexico and glowing from positive reviews of his showing at Aztec Land Gallery, Weston began to have a realization. He wrote in "Daybooks," "The camera should be used for a recording of life, for rendering the very substance and quintessence of the thing itself…I feel definite in the belief that the approach to photography is through realism."
For Weston, this change may have never occurred if he had not ventured south of the border, but for native photographers, an appreciation of their home was always present. Graciela Iturbide and Pablo Ortiz Monasterio draw from events and moments that occur naturally around them, though they may seem fantastic to us. Visions of Luchadors and traditional storefronts draw us in to a place still overlooked as a cultural beacon, but after SFMOMA's show, that perception may soon change.
"Photography in Mexico" will be on display at the San Francisco Museum of Modern Art through July 8th, 2012. View a selection of images from the exhibition in the slideshow below, and let us know your thoughts in the comments section.
PHOTO GALLERY
Photography In Mexico
BEFORE YOU GO