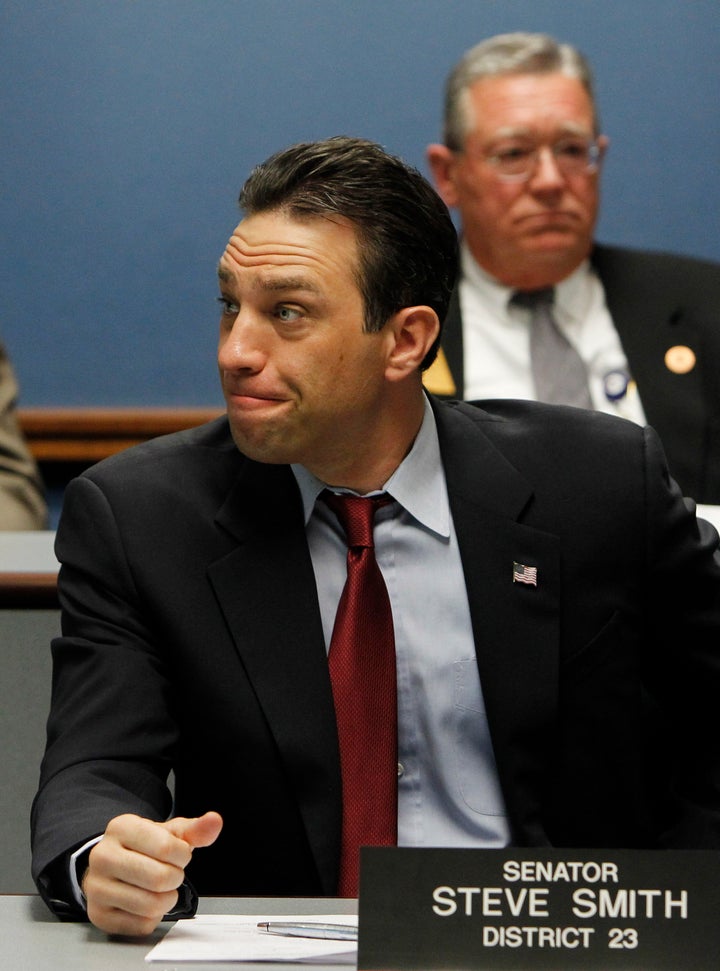 Arizona's business community has mobilized against an effort in the state legislature to make jobless Arizonans pee in cups in order to receive unemployment insurance.
A bill to drug test the jobless passed the state Senate last month and is up for consideration in the state House. The Republicans pushing the legislation seem unconcerned that if it were to become law, the drug testing bill would trigger a massive tax hike for Arizona businesses.
Bill author Sen. Steve Smith (R-Maricopa) told HuffPost weeks ago that the only goal of his bill is to make sure unemployed people don't spend their benefits on drugs. "The very least you ought to be able to do is prove that you're of sound mind to get a job," Smith said.
Smith and his colleagues in the state Senate may have been unaware when they voted that the bill would jack up business taxes, even though the U.S. Department of Labor had notified the state that the measure's drug testing scheme would be against federal rules, resulting in a loss of federal unemployment tax credits. "I believe in my heart of hearts that lawmakers in the Senate were not aware of the consequences," Michelle Bolton, a lobbyist for the Greater Phoenix Chamber of Commerce, said in an interview.
But members of the state House Appropriations Committee were definitely on notice, both that the bill wouldn't fly under federal law and that it was all but guaranteed to trigger a successful court challenge on constitutional grounds.
Committee member state Rep. Matt Heinz (D-Tucson) said business opposition to the bill was perfectly clear before the committee voted. "You had the Chamber of Commerce there jumping up and down, waving their arms and screaming, 'No don't do this!'"
Rep. Russ Jones (R-Yuma) initially opposed the bill in committee, then flipped his position, he said, to give Smith a chance to change his proposal, which Jones said Smith promised he would do. "If his bill is not amended to my satisfaction, I will be voting no on the Floor and speaking against the bill," Jones said in an email. "He would have to bring his language into compliance with Federal regulation on the same matter."
Bolton said Smith has ignored requests for meetings from business leaders. "He hasn't even talked with the business community," Bolton said. "They are going to Las Vegas and they are gambling with the business community's tax money to play with the unemployment insurance system to do something the [U.S. Department of Labor] has said is not copacetic."
Every business pays state and federal unemployment taxes for each worker on payroll. Most of the federal obligation under the Federal Unemployment Tax Act is offset with tax credits, so long as a state's unemployment laws comply with federal law. Federal law prohibits states from denying benefits for any reason unrelated to whether or not a worker was laid off through no fault of his or her own. Since Smith's bill says workers would lose benefits if they fail a drug test, the state would lose its FUTA tax credits, as well as millions in administrative funding for its unemployment program.
The average Arizona business' federal unemployment tax burden would jump from $42 per employee per year to $420 per employee, according to Bolton's analysis.
Various businesses and business groups like the Arizona Chamber of Commerce and Industry, the Arizona chapter of the National Federation of Independent Businesses, and the Arizona Small Business Association have joined labor and civil liberties advocates in opposition to the bill.
"Regrettably, Sen. Steve Smith's SB 1495 may have laudatory goals of ensuring that drug addicts aren't abusing our unemployment insurance system but in its execution it would likely result in dramatic and destructive FUTA tax increases on Arizona's small businesses," Farrell Quinlan, Arizona state director for the National Federation of Independent Businesses, said in an email. "SB 1495 has so many problems with federal conformity that it would be reckless to pass this bill and play Russian roulette with employer tax rates."
From the start, Sen. Smith has had a casual attitude about the potential consequences of his legislation. Asked by HuffPost earlier this month if he cared that the bill would almost certainly trigger a lawsuit from the American Civil Liberties Union, he said, "Well, Arizona's no stranger to lawsuits. We've got everybody from the president on down suing us." (Smith has not responded to subsequent interview requests.)
More than a dozen states have considered legislation to drug test the jobless in the past year, but none have actually followed through by passing a law. Arizona is the first state to pursue unemployment drug testing since Congress said in February that states could do so -- but only in limited circumstances, such as when an unemployment claimant was fired for drug use or is seeking work in an industry that commonly tests new hires. Smith said he took encouragement from the new federal law even though he made no effort to comply with it.
"I think he just wants to invade privacy and embarrass folks," Rep. Heinz said. "It's a very mean-spirited piece of legislation for people who are down on their luck."
Bolton stressed that business groups are not opposed to drug testing legislation that complies with federal regulations, such as a proposal from Rep. Karen Fann (R-Prescott).
It will be up to Rules Committee chairman Rep. Jerry Weiers (R-Glendale) whether the legislation sees a vote on the House floor. A Weiers spokeswoman said the chairman had not yet considered the bill.
BEFORE YOU GO