Maybe we should be prepared for the phrase "enemy someone on Facebook" to enter the lexicon.
EnemyGraph, a new app for Facebook, allows users to do just that: Declare their enemies on the world's most popular social network.
It may sound sinister, but the motivation is more sociological, say the developers, a group from the Emerging Media + Communications program at the University of Texas at Dallas.
SCROLL DOWN FOR IMAGE
"Facebook has this artificial positivity kind of forced upon it," said Harrison Massey, a student at UT Dallas who, along with Dean Terry, the director of the program, and Bradley Griffith, a graduate student, collaborated to develop the app. "We believe that there is a certain amount of health in saying that you don't like something, that something is your enemy, because you can create conversations about that. You can bond with people over that."
Massey said, for example, that users could bond over the common dislike of a company or a political party.
Here's how the app works: Those who've installed EnemyGraph can choose "enemies" from both their existing friends list as well as from a list of other users of the app. They can also choose to "enemy" public figures and companies with pages, or, in the words of EnemyGraph, "pretty much anyone or anything on Facebook."
So far, "Trending Enemies," as they're referred to in the app, have included the Facebook Timeline, George W. Bush and racism. Massey told The Huffington Post that Justin Bieber, and various iterations of his name, has by far been the most popular enemy.
"We are misusing the word 'enemy' the same way that Facebook misuses the word 'friend,"' Terry, the UT professor behind the project, told HuffPost. "It's totally inaccurate. It's not about individuals. It's really about things in popular culture."
EnemyGraph was officially released on March 15, but until Sunday night, when an article about it came out in The Chronicle of Higher Eductation, the app only had about 300 users. As of Thursday afternoon, following articles from Mashable, CNN and PC Magazine, the app had amassed over 20,000 users, Massey said.
So many, in fact, that the team has had to move EnemyGraph.com, the app's website, to a new server to accommodate the traffic. And on Thursday, the application itself was having issues, also a function of the influx of new users.
Facebook users for several years have spoken about the desire for some sort of "negative" tool. Online petitions (and scams) about a "dislike" button have circulated since at least 2010, and there's even a "Facebook Dislike" add-on for Firefox.
But as Jeffrey R. Young notes in his article in The Chronicle, "the word ["dislike] is literally banned by the service to prevent developers from creating a dislike button."
Facebook has not yet responded to a HuffPost request for comment, but the developers of EnemyGraph would not be surprised if the company asked them to shutter the app.
"The project, like others we have done, was begun as a sort of experiment," Bradley Griffith, one of the developers, wrote in an instant message. "We wanted to see what people would do if given a chance to have such an outlet."
"The main goal was to get people talking about these issues," he added. "I think the app has served its purposes there."
LOOK: EnemyGraph: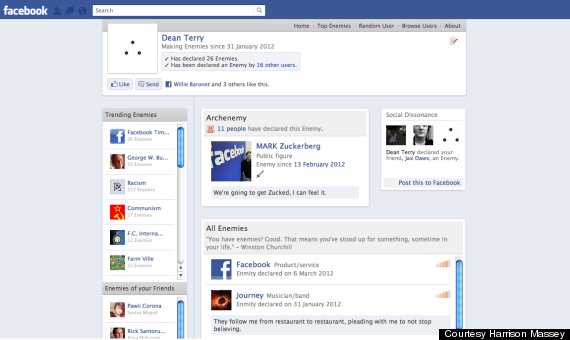 BEFORE YOU GO
Check out 17 Timeline apps recommended by Facebook.
PHOTO GALLERY
17 Facebook Timeline Apps (CLONED)