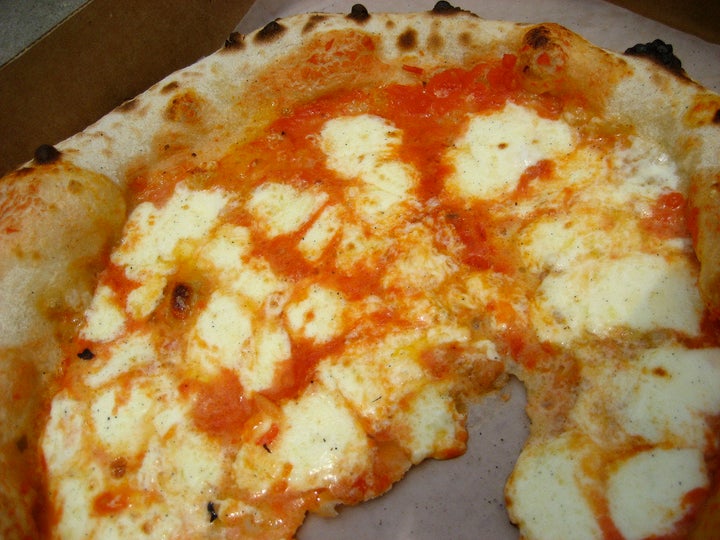 "2Amys, in my opinion, was No. 1," he told Washington City Paper. "I think ours is the best."
While the nation's capital isn't known as much of a pizza town as some other cities are, discerning diners certainly know where they like to get a Neapolitan pie -- or for purists, a pizza that incorporates Neapolitan characteristics.
2Amys, near the National Cathedral, and Pizzeria Paradiso, with multiple locations, have long been favorites and have topped many local must-taste lists. And they're both very popular, as evidenced by the patience often required to secure a table.
Two Amys in Cleveland Park bakes a Neapolitan model that's thin in the middle and raised on the borders, and bears just the right amount of char from the wood oven to give the combination of flour, water and fresh yeast its delicious edge.
But some have soured on 2Amys over the years, saying it's not like it was when it opened more than decade ago. There are newcomers worth trying all over town, some going a more Neapolitan route, others using other pizza traditions.
Regardless of where 2 Amys stands, Ilhan is treading into dangerous territory saying his fast-casual restaurant near American University will be No. 1 in town. The proof, of course, will be in the pie. And he promises his will be top notch.
But as he pointed out to Washington City Paper, he has the "Ferarri" of dough mixers. Ilhan's man in the kitchen, Roberta Donna, says that "[w]hen it mixes the dough, it stretches the gluten, so you get more air and lighter dough at the end."
If he can secure that certification, that may make Ilhan's new place on New Mexico Avenue a D.C. dining destination for nit-picky pizza purists.
So will the pizza be worth Ilhan's big talk? Wait and see when La Forchetta opens April 2.
BEFORE YOU GO